Sprint is offering a free tablet to anyone who buys a new smartphone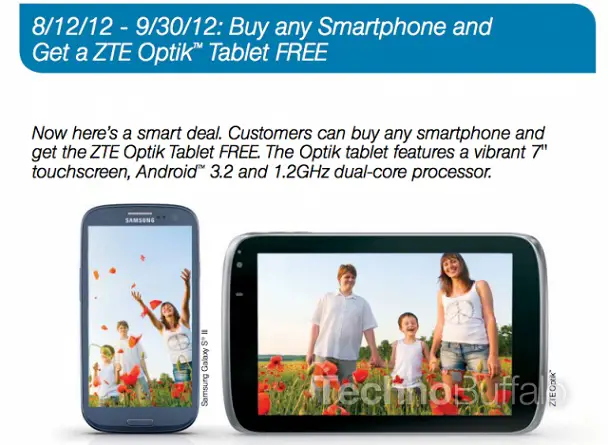 If you're in the market for a new HTC EVO 4G LTE, or any other smartphone that's currently in Sprint's lineup, then now might be the perfect time to buy: starting on Sunday, August 12, and lasting until September 30, Sprint is offering a ZTE Optik tablet for free to anyone who buys a smartphone.
Obviously, the ZTE Optik is not groundbreaking by any means. It features a 7-inch WXGA display with 1280 x 800 resolution, a 1.2GHz dual-core Snapdragon processor, 16GB of internal memory, 1GB of RAM, a 4,000 mAh battery, a 5-megapixel rear-facing camera, and a 2-megapixel front-facing camera. It also runs the very out-dated Android 3.2 Honeycomb.
However, this tablet could certainly function as a very nice ereader that does a lot more than just display books. It could be a great gift for an older parent who wouldn't really appreciate the difference between this and the new Nexus 7. It could be a nice learning tool for a young child who wants to use a tablet, without the fear of letting your $500 Transformer Pad Infinity out of your site. You get the idea.
The only downside is that, in addition to the new two-year contract for your smartphone, you'll also have a new two-year contract for your tablet. But still, at the same time, it's hard to beat the price of free.
[
Techno Buffalo
]