Accessory review: Adonit Jot Classic stylus
The stylus market is booming, and there are quite a few manufacturers all competing for the top spots right now. The Jot started its life on Kickstarter a year ago, and has since been expanded to an entire line of products, all based around a non-traditional tip. Unlike most styli, the Jot uses a clear plastic disc on the top of the stylus, connected to the stylus itself via a small ball joint. The idea is to create a more accurate stylus by allowing the user to see where the middle of the stylus tip is, since the actual size of the tip can't be shrunk down because of the way capacitive technology works. Read on to see if this is brilliant, or just pointless – some pun intended.
Packaging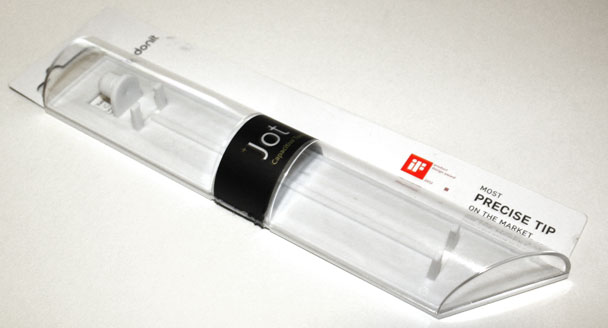 The Jot Classic comes in a hard plastic case attached to a small piece of cardboard. It looks nice, and is obviously designed to catch people's attention on the shelf, but as far as practicality and environmental friendliness goes, it gets an F. I want to point back to my review of the Maglus for an example of how a stylus should be packaged. Bad planet haters!
Design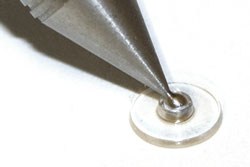 The Jot Classic is made of aluminum, and has a pretty minimalistic shape. It's essentially just a tube, without anything that breaks from that simplicity. It has a cap that screws onto either end, designed to protect the tip when not in use, and blend into the rest of the stylus when attached to the end while in use.
The stylus comes in four colors; purple, red, blue, and green. I don't know if this is a ploy to get people to go for the almost twice as expensive Jot Pro, because frankly it's just stupid to release a product that isn't available in black or silver. I'm sure there are people who appreciate colors out there, but I can't help but look at my blue Jot Classic and think it's a heck of an eye sore next to…well, everything else I have! For the record, the Jot Pro adds magnets and a rubber grip to the equation, but with the Classic going for $16 in Adonit's online store, the $30 Pro version seems a bit overpriced.
In use
Adonit claims that its Jot styli are the world's most accurate styli. I don't know if that's true, however it is true that it's more accurate than your traditional rubber tip stylus. Or, perhaps not more accurate, but easier to be accurate with. A rubber tip stylus can be very accurate, but the problem is that you don't see exactly where you're writing, so it ends up being less accurate than it is. The Jot styli are still bound by the same laws of required surface area to work with a capacitive screen, they just don't block the screen. The screen detects the center of the contact area, which is directly below the ball joint, giving you the illusion that you're writing with a more accurate tool than you are.
Unfortunately, being more accurate in practice doesn't make the Jot Classic a better stylus, at least not for what I use a stylus for, which is taking notes. It's still not accurate enough to compete with a proper digital pen like that of the Galaxy Note 10.1, so you get a stylus that is more accurate without that really making a world of difference. I've demonstrated how partial zoom writing works on the iPad, a method that produces far more accurate handwriting with a traditional stylus than what the Jot Classic is capable of producing on its own.
You might say that if a rubber tip stylus works great for partial zoom writing, the more accurate Jot Classic should work at least as well. Unfortunately, no. The hard plastic disc tip of the Jot has a few issues that you don't get with rubber tip styli, and those issues become far more apparent when you're not impressed by the accuracy. First off, the disc is hard, so it needs to be fully in contact with the screen to work. The faster you're writing, the more instances of the screen not registering the stylus will occur. It's a stylus that works much better if it's in constant contact with the screen, which means it's not as well suited for writing as it perhaps is for drawing.
On top of that, the stylus performs quite differently across different devices. It actually seems most responsive on my Galaxy S II, least responsive on my Galaxy Tab 7.0 Plus, and somewhere in between on the iPad 2. Ironically, only the S II has a screen protector of those three, which is rather backwards.
These previous paragraphs have all been about using the stylus for writing though, and that's not necessarily what you'll be doing. It is a more accurate stylus after all, so for things like drawing, this may very well be a far superior stylus to the rubber tip ones. Unfortunately I can't comment on that, since I don't draw on my devices. If I didn't have the iPad and apps with partial zoom mode, I would also likely have liked the Jot Classic more. In fact, I plan on experimenting with it a bit on Android, where I've yet to find an app which makes stylus accuracy a non-issue.
Conclusion
I'm not at all impressed with the Jot Classic. I guess I was expecting a stylus that is accurate, not just more accurate than the competition. Being faster than a paper plane doesn't make something a fighter jet. Because I've already found ways of getting around the accuracy problem of traditional styli, the Jot Classic doesn't really offer anything for me. That's subjective though, as the usefulness of this stylus is not only going to vary based on personal preference, but also what type of work you do with it, and what device you have.
It's currently $16 in the Adonit online store, which makes it a fairly cheap stylus to try, and pretty decent value for the money as far as build quality goes. Adonit fails quite horribly at international shipping though, with rates far too high to be justified, so international buyers might want to do like me and pick it up somewhere else.