Bluestacks Beta allows you to run Android apps on your PC or Mac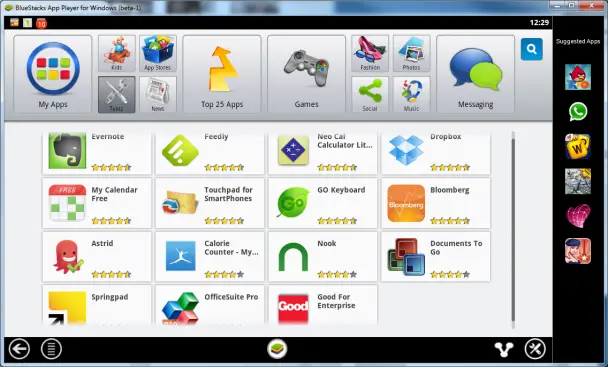 Bluestacks is a program for Windows that we've reported on before, and which recently became available for Mac (although only in alpha), which allows you to run Android OS apps on your home computer.
While it may seem a bit counterintuitive to run mobile applications on a (possibly) non-mobile computer, there are several advantages that might not be apparent. Several popular Android applications are available from the developers for free where their iOS counterparts are not. You can even run full Microsoft Office applications through Onlive.
First person shooter games, which are a pain to play with your thumbs, can now be played with a keyboard and mouse, giving you an advantage over those using an actual mobile device.
For those interested in getting into the root world but who are a bit timid about potentially bricking their phone, Bluestacks offers a virtual Android device with which you can play with the root aspects of Android, although Bluestacks contains no virtual bootloader or recovery mode. A guide to rooting your Bluestacks can be located here. If you "brick" your Bluestacks, uninstalling it and reinstalling it will get you back in business.
When I initially played around with Bluestacks in March, I wasn't too impressed with the speed or ease of use of Beta-1, but since then, although the Beta name and version is still the same, the PC version seems to fly in comparison to what it used to. The memory use also falls well within reasonable limits, which I don't think it did last time I played with it.
Gone also are the annoying persistent icons which used to plague the screen (which were alsoone of the big reasons I uninstalled the app long ago). If you haven't checked out Bluestacks in a while, it's worth taking a second look. I'm glad I did.
[
Bluestacks
]