Facebook for Android and Facebook Messenger get updates with minor improvements [Updated]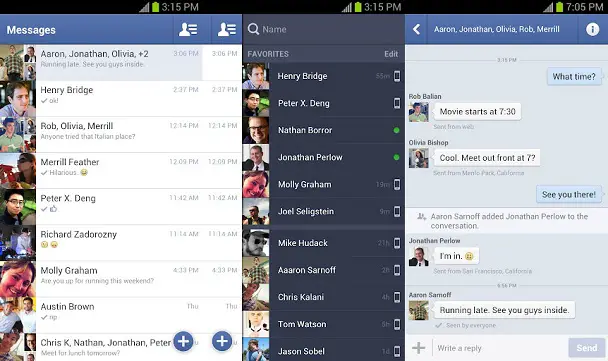 Both Facebook for Android and Facebook Messenger have received updates today that add some nice functionality to both apps – but they're not the grand redesign we've all been waiting for.
Here's the change log for the official Facebook app:
New button in upper right of News Feed quickly shows who's available to message
New design for conversations in Messages
When sending messages, see who's active so you and your friends know how soon to expect a reply
Improvements to make the app more secure and reliable, including bug fixes for errors during multi-photo selections, device restarts, and push notifications
And here's the change log for Facebook Messenger:
Swipe left anywhere in the app to quickly see who's available and send a message
Add friends you message most to the top of your Favorites
Try texting with Messenger (currently only available on some phones)
New design for conversations
Improved speed and reliability
Bug fixes
Users of both apps will notice right away that the conversation view has been updated to include text bubbles. It's also now much easier to quickly see your most-contacted friends, as well as who is online and who is mobile. The right-to-left swipe action in Messenger is also a nice feature, although for some reason it's not duplicated in the main Facebook app – even though the messages view in Facebook looks almost identical to Messenger.
There's also a mysterious new "texting with Messenger" feature that's only available on some phones. Apparently, the HTC EVO 4G LTE didn't make the cut, so I can't test that one out myself. In any case, this update makes for a slightly better user experience, although I'm still waiting for Facebook video calling

Download: Google Play (Facebook for Android)

Download: Google Play (Facebook Messenger)
Update: It appears that another feature just added is the ability to tag people more easily in status updates. Now that's something for which I've been waiting a long time.