Google Play reaches 25 billion downloads, putting tons of stuff on sale [Updated]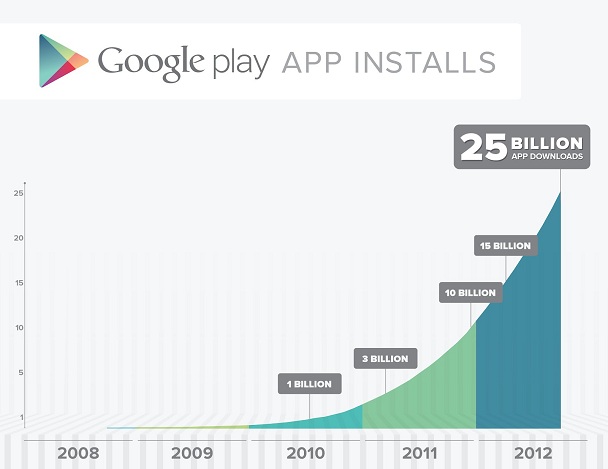 Google just announced on its blog that the Play Store – formerly known as the Android Market – has now hit a huge milestone. Since its inception, Google's app hub has facilitated over 25 billion app downloads. That's a mighty big number, and to celebrate, Google will be putting tons of apps on sale over the next five days.
As of publication, nothing is on sale yet, but Google says this will go live later today. And these aren't no-name, second-class apps, either: Google promises to cut prices down to only $0.25 for a "collection of apps from some of the world's top developers including Gameloft, Electronic Arts, Rovio, runtastic, Full Fat and more."
And it doesn't stop with just apps. Google also says it will be running a few other special promotions during this time, featuring collections such as "25 movies you must own, 25 banned books, 25 albums that changed the world and our 25 top selling magazines, all at special prices."
Google seems to be starting a pattern in which it offers huge sales like this at least once a year. So if you've been eyeing some awesome games, books, music, or movies, this just might be the chance you've been waiting for to snag them all at a really great price. Just keep checking the Play Store on your Android phone throughout the day to see what will be on sale.
[
Google
]
Update: Here's the full list of today's $0.25 apps. Be sure to check back for more over the next five days!
Angry Birds Space Premium
Draw Something
Asphalt 7: Heat
Granny Smith
NFL Kicker 13
Symphony of Eternity
Clouds & Sheep Premium
Sudoku
Ocean HD
OfficeSuite Pro 6 + (PDF & HD)
Tasks
Cat In The Hat
runtastic PRO
Let's Create! Pottery
London Bus Checker