Hands on with CyanogenMod 10 – Disarmed Toaster 0.1.6 for the HTC EVO 3D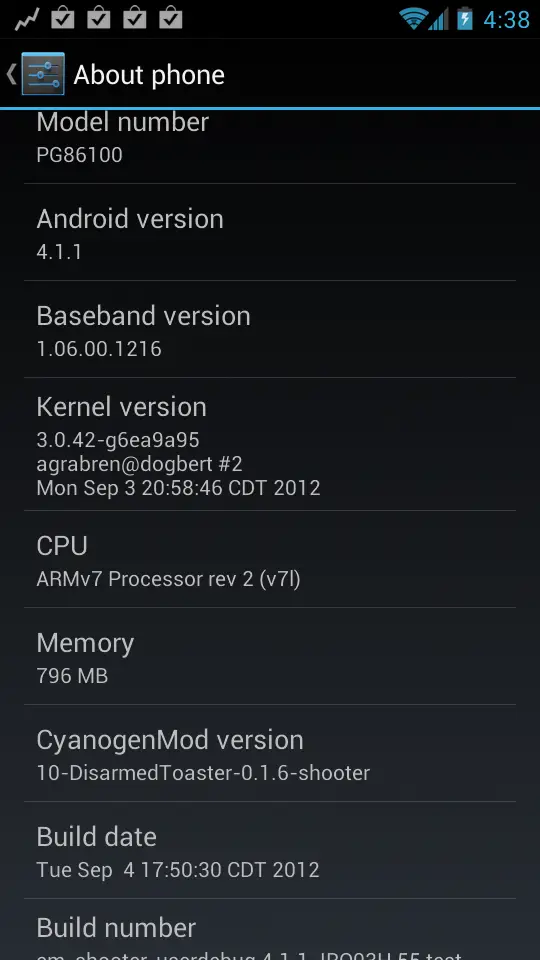 Although there was a public abandonment of CyanogenMod 9 for the CDMA HTC EVO 3D due to some long running issues, it looks like CM10 is alive unofficially and a work in progress by Agrabren.  The CDMA versions do not have official support yet, and the GSM versions are the priority at the moment.
Disarmed Toaster looks like any other CyanogenMod 9 or 10 variant for other phones. The goal at this point is to get things up and running for the EVO 3D finally, not to make a themed custom ROM.
On the downside: 3D doesn't work in any fashion, 4G/WiMAX on the CDMA build is selectable but I do not think it's actually working, the camera is dead and causes force closes, Smurf-like colors appear in portrait mode on YouTube videos, and there are occasional ROM restarts.
On the upside, it's an extremely fast Jelly Bean-based ROM that has integrated and working Google Now with voice recognition that's superb and GPS that locks very quickly, and many things are planned to be added shortly. Although not at all reflected by benchmarks, the ROM flies.
Recent weeks have seen some major leaps forward in JB CMX progress, and we can hope that progress will come as fast and free as it was with the CDMA CM9 builds, despite some old issues repeating themselves.
If you're interested in playing with the ROM, head over to the GSM developer thread, and go to the mirror for the ROM downloads. Just note that anything that claims it's for the Shooter is for the CDMA version of the phone, and ShooterU is GSM. You'll need a copy of GAPPS located there, also.
It's not a daily driver candidate yet, but it looks like it could be very quickly. Hopefully the haters, fans, and the well-intentioned misguided won't turn this into a flame fest like the CDMA CM9 threads became last time.
You can find unofficial support for Disarmed Toaster on the CDMA EVO 3D here.