HTC invites press to special event on September 19: What does it have up its sleeves?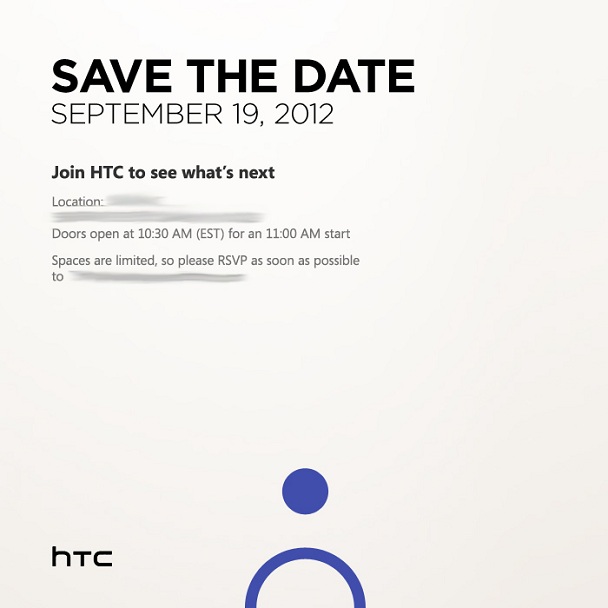 HTC is sending out special "save the date" invites to select members of the press for an event scheduled to take place on September 19. In other words, it must be autumn – the time of year when device manufacturers like to refresh their current lineups and get people excited for new gadgets before the holidays.
Apple is doing something similar a few days before HTC's event, and a few other manufacturers also have events scheduled around the same time. But what does HTC have up its sleeves?
HTC traditionally releases its flagship EVO devices for Sprint in the summer, so we probably won't be seeing an official successor to the HTC EVO 4G LTE. However, HTC has also gotten into the habit of releasing mid-range devices in between the bigger EVO launches, like the HTC EVO Shift 4G or the EVO Design 4G, so it's possible we might see something similar announced on September 19.
We've also recently seen rumors flying around of a new HTC 5-inch phone/tablet hybrid to compete with Samsung's Galaxy Note, possibly headed towards Verizon. There's also the rumored HTC One X+ that could be headed to T-Mobile soon, along with a possible new stab at the tablet market.
HTC is also supposedly working on a Windows Phone 8 device, code-named the HTC Accord, so there's a chance that HTC might make some kind of announcement regarding that, as well.
With all these possibilities, it's hard to know exactly what HTC really has planned. But until that time comes, we can certainly speculate. What would you like to see HTC announce on September 19?
[
Android Central
]