Jelly Bean update for ASUS Transformer Pad Infinity delayed until next week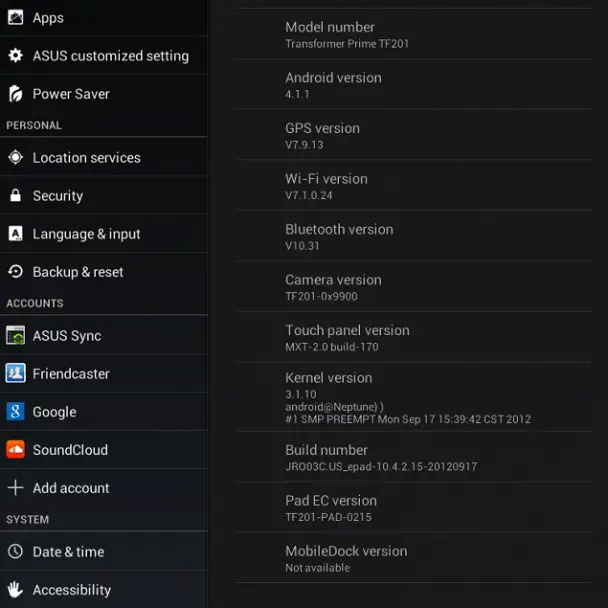 It's been a crazy 72 hours or so. Tuesday, ASUS Sweden announced on Facebook that Jelly Bean would be on its way soon for the ASUS  Transformer Pad Prime – formerly known as the ASUS Eee Pad Transformer Prime. Then, on Wednesday, ASUS Marketing Manager Gary Key took to XDA to announce "that we will soon be rolling out a major software update for both the ASUS Transformer Pad Infinity (TF700) and ASUS Transformer Pad Prime (TF201), which will bring Android™ 4.1, Jelly Bean to the devices. We always strive to deliver the latest updates for our customers – we hope you enjoy it. Thank you for your continued support." According to Key, the updates would be available "within the next 72 hours."
Then, ASUS announced that the Transformer Pad Prime would get the update today – Thursday – and the Transformer Pad Infinity would receive it tomorrow, on Friday. And TF201 owners have indeed started getting the anticipated update to Jelly Bean, bumping the tablet's software version up to 10.4.2.15. But there's bad news for Infinity owners.
Gary Key took to XDA again early this morning to announce, "For those users in the US and Canada, the 10.4.4.16 Release should be available early next week. A couple of applications that were recently updated (Facebook 1.9.10 on 9/20 as one example) required a last minute firmware update for the keyboard to operate correctly in the "Comment" area with Android 4.1. Sorry about the delay but this fix needed to be implemented before release."
Did you follow all that?
So while TF201 and TF300 are both now on Jelly Bean, poor TF700 owners have to wait even longer. This is disappointing to say the least, and all of this seems highly disorganized on the part of ASUS. One of the worst things a company can do is promise something by Friday, and then make people wait an entire weekend – and possibly part of the next week – for what was promised. On the other hand, I think everyone wants to fully functional, bug free update – but shouldn't internal testing have already caught this?
All I know is that it's going to be a long weekend for me.
[
xda-developers
|
Phandroid
]