Motorola releases Flip Stand, a universal smartphone and tablet dock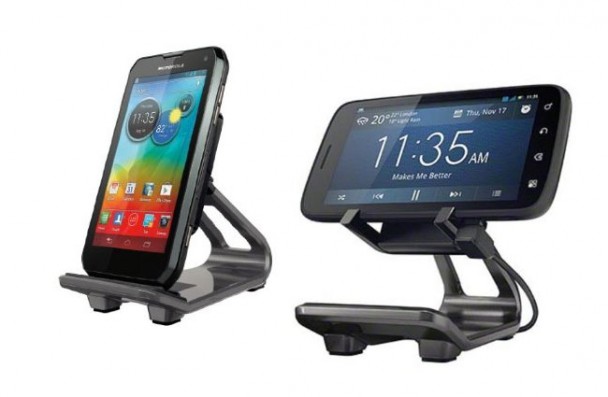 As someone who switches phones and tablets often, I like to find accessories that will work with a number of different devices, and not just one. After all, it is easy enough to spend hundreds on accessories, so I don't want waste my money on device specific hardware that will be useless when I upgrade. Sensibly enough, that is why I like more universal accessories, like the Logitech Tablet Keyboard for Android that I got instead of an iPad-only case keyboard. As such, I was excited to see the new universal Motorola accessory that started showing up around the internet yesterday.
Called the Flip Stand, the product is designed to work as a stand for both phones and tablets. It can be used in various configurations, and hold devices both horizontally and vertically. In order to hold smartphones horizontally, two arms flip out from the stand, presumably giving it its name. The stand also comes with a Motorola "Smart cable" that can automatically launch apps if you have a Motorola device, but the same effect could be achieved with NFC tags even if you don't.
While the accessory is obviously designed by Motorola and for their smartphones, there are two reasons that it could be interesting to other people. First, it is both a universal tablet and smartphone stand in one, which is something that I have actually been looking for. Second, it is also priced quite well, at about $40 for the version with a Smart cable and can be found for about $30 without it. Considering that some docks for my Galaxy Nexus cost nearly $70 and won't work for anything else, I'm probably going to end up with one of these docks on my desk fairly soon.
[
Phandroid
]