OS X Mountain Lion 10.8.2 sets MacBook battery life back to normal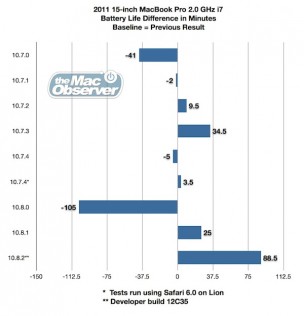 Apple isn't perfect – not by a long shot – but OS X Mountain Lion may be one of the company's biggest mishaps. Just about every MacBook, regardless of model, suffered from a fairly huge drop in battery life. The 10.8.1 update was said to remedy those battery woes, but that update has since been released – with few good results.
Luckily, Apple seems to be hard at work on 10.8.2, and has allegedly fixed the battery issues that Mountain Lion-running MacBooks have been suffering from. The graph to the right comes from The Mac Observer's battery test. Mountain Lion's initial release caused their MacBook Pro's battery to lose over 100 minutes of battery runtime (compared to Snow Leopard 10.6.8). 10.8.1 gave them about 25 more minutes than Snow Leopard did, but that still wasn't as good as Lion. However, Mountain Lion's second update seems to have done the trick, giving them almost an hour and a half (88.5 minutes) more of battery life than Snow Leopard did.
I own a Mac that's been through Snow Leopard, Lion, and Mountain Lion. Obviously, Snow Leopard was the best OS in terms of battery life, but even Lion was okay in comparison to the atrocity that is the current release of Mountain Lion. Since Mountain Lion, I haven't taken my MacBook anywhere: I'm living in fear that at any given moment my computer will die and I will lose everything that I'm working on. Hopefully, like The Mac Observer says, Apple's next Mountain Lion update will make my mobile computer mobile once more.
When that will be, of course, is yet-to-be-announced, but I can't imagine Apple making us wait too much longer.
[
The Mac Observer
]