Some better camera options for your rooted HTC EVO 4G LTE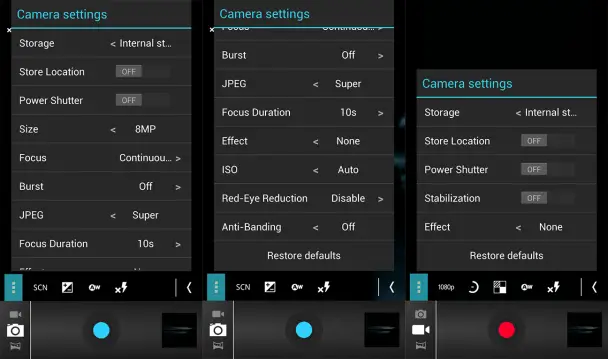 When the HTC EVO 4G LTE shipped with the Sense 4.0 camera, it was a pretty revolutionary leap forward in terms of camera software. Unfortunately the Sense camera can't be easily ported to AOSP ROMs, and the stock CM camera options leave a bit to be desired. But there's good news for both rooted Sense and AOSP ROM users now.
On the AOSP/CM side, there's the Samsung Galaxy SIII AOSP Camera Mod. This mod includes burst mode, high resolution and quality options, red eye reduction, effects, stabilization, 1080p video recording, and many other options, although many of the options only work on Android Jelly Bean with the newer versions.
While not yet a head-on competitor for the Sense camera, it's on the right track for being AOSP's shining answer on some quality hardware. Most notably, it falls behind for having to select burst mode before using it, as opposed to just holding down the camera button.
If losing the Sense camera is keeping you from embracing AOSP, this is some good news.
On the Sense-based ROM side we have the Sense 4.5 Camera Mod. What pops out first is the zoom bar being moved and the ability to switch from rear to front facing camera without looking through the menus. Available video time and number of pictures is also flashed up before your first shot.
The options include full HD, unlimited burst mode, shutter sound, image encoding quality, and using the volume keys as video or camera toggles. The mod linked above has an issue of being ported from a phone that has no camera button, but developers are incorporating it into Sense-based ROMs now with the Sense 4.5 camera  already making an appearances in Meanrom 4.1 with working camera button.
My bet is there will be a plethora of Sense ROMs including it shortly.