T-Mobile's zero-down promo starts today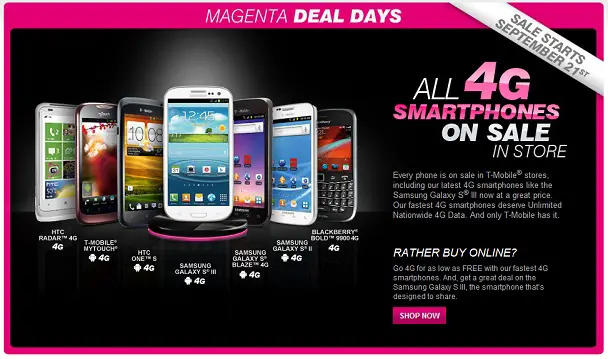 If you've been waiting to get your hands on the HTC One S or other T-Mobile "4G" smartphone, but you haven't had enough cash in hand, you're in luck. Today is the first day of T-Mobile's new "zero down" promo, part of its ongoing Magenta Deal Days series of sales. Right now, the nation's fourth largest carrier is offering its entire 4G lineup at no cost down, with a two year contract and qualifying Unlimited Value and Unlimited Nationwide 4G data plans.
What's the catch? (There's always a catch…)
Well, you still have to front the money, and then you'll get reimbursed in 6-8 weeks. You also need to choose a Value plan, not a Classic plan, to take advantage of the deal. (Value plans are the ones that cost less per month, but charge you the unsubsidized price of phone through an added monthly charge for a certain amount of time.) You'll still come out ahead on a Value plan, even paying the extra amount each month for the phone, and with this deal, it almost makes it feel like you're getting the phone for free.
T-Mobile provided the following chart to illustrate how this deal will work. The EIP monthly payment represents the added charge you'll see each month for 20 months.
So, if you've been waiting around to pick up that One S – or even a new Samsung Galaxy S III – is this promotion sweet enough to seal the deal?
[
T-Mobile
]