A closer look at Xbox Music and what it means for you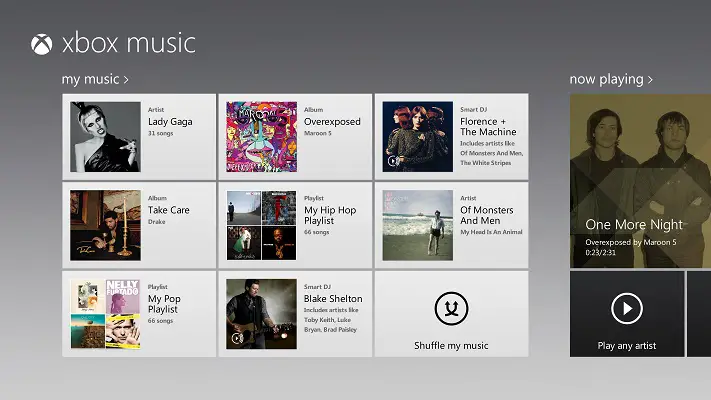 Xbox Music, Microsoft's successor to Zune, finally launches today. The service was initially announced at E3 2012, but aside from a few early app previews on Windows 8 and Xbox 360, we had very few concrete details about what Xbox Music had in store. Now that the dust of last night's announcement has had time to settle, here are my thoughts on the service, as well as what the announcement means for you.
As it currently stands, Xbox Music is a fantastic service, combining the best elements of on-demand music streaming (e.g Spotify), internet radio powered by Smart DJ (e.g. Pandora), and a music store (e.g. Amazon MP3 and iTunes). Nearly all of your favorite Zune features have made the jump over to Xbox Music, including the Xbox Music Pass and Smart DJ, and the new features like free ad-supported streaming on Windows 8, cloud-based playlists, and SmartGlass integration between Windows 8 or Windows Phone 8 and Xbox 360 are very compelling. Unfortunately, the best features – such as cross-platform apps on Android and iOS, a cloud-based music locker, new social features, a web-based media player, and more – won't be available until next year. Microsoft isn't saying when exactly, but at least it sounds like it'll be sooner rather than later.
The Xbox Music Store boasts more than 30 million tracks worldwide (18 million in the US) and 22 markets (15 for ad-supported streaming). Unlike Zune, you'll be able to use either Microsoft Points or your local currency to purchase tracks. This is, I think, the best of both worlds, since some people actually like Microsoft Points. Track prices will range between $0.99 and $1.29, the industry standard. As for sound quality, you're looking at 259kbps for DRM-free MP3 purchases or 192kbps for streaming WMAs.
Current Zune Music Pass subscribers will be automatically transitioned over to Xbox Music Pass, but what about subscribers who were grandfathered in under the original Zune Pass subscription? The original model allowed you to permanently keep up to ten songs every month as part of the $14.99 plan. While this feature is no longer available under the $9.99 plan, it was possible to continue using the monthly credits as long as you didn't downgrade your subscription. Will this still be the case with Xbox Music? The new apps won't support credits, naturally, but the Zune software client certainly still does.
Another question, as my friend Travis over at enConnected noted, is what will happen to Zune's podcast marketplace? Podcasts are still supported in the Zune software client, and the feature was added to Windows Phone in last year's Mango update. As it currently stands, the Xbox Music Store will not offer podcasts. You'll still be able to add podcast MP3s to your music library, but subscriptions won't be supported. Will Microsoft release a dedicated app at some point for Windows 8?
Ad-supported playback sounds like it'll be a killer feature on Windows 8 PCs and Windows RT tablets like the Surface. New users will be treated to unlimited ad-supported music streaming for the first six months, but after that you'll be limited to 10 hours of ad-supported music playback per month. This seems like a very small figure at first glance, but it's actually comparable to competing services like Spotify. SmartGlass, too, should be fantastic, allowing you to push content on your Windows 8 device or Windows Phone 8 handset to your Xbox 360.
The only thing I'm worried about at this point is playlist sync. The ability to create and manage playlists which show up on all of your devices is all well and good, but I'd much prefer a solution that's easier to browse and sort. In an ideal world, I'd love to be able to pin albums, artists, and tracks to a cloud-based music collection, which merges content from the Xbox Music Store with whatever you've added to your cloud-based music locker. It's possible that playlists will end up working just fine, but I have my doubts. Of course, the only way to know for sure will be to spend some hands-on time with the service. For now, playlist sync is a great start.
What this means for Windows 8/RT users
Windows 8 and Windows RT users get the ultimate experience, thanks to the inclusion of free ad-supported streaming. You'll get access to all of the new features coming to Xbox Music, and the service has been engineered with these platforms in mind.
What this means for Windows Phone 8 users
Much like Windows 8 and Windows RT, Xbox Music on Windows Phone 8 is top-notch. You'll need an Xbox Music Pass in order to take advantage of streaming, but everything else will be available on the phone as well. Microsoft plans to release a standalone sync app on the Windows Store later this fall, allowing you to move local content to your Windows Phone 8 handset for offline access.
What this means for Android/iOS users
Sometime in the next year – hopefully sooner, rather than later – Microsoft will release Xbox Music apps on Android and iOS. Details about these apps are scarce, but you'll presumably have access to the same features as on Windows Phone 8.
What this means for Xbox 360 users
Xbox 360 users will be the first to experience Xbox Music, thanks to the release of the new Xbox 360 dashboard update, which is currently being rolled out to consoles. You'll need an Xbox Music Pass in order to take advantage of streaming music, but Microsoft does offer a free 30-day trial. As with all apps on Xbox 360, an Xbox LIVE Gold membership is also required.
Xbox Music on Xbox 360 also includes a number of unique features, such as Smart VJ – smart DJ for music videos – and the ability to pin your favorite albums and artists. Kinect voice and motion controls are supported, and SmartGlass, which will be released in the coming weeks, will expand the number of ways you'll be able to interact with Xbox Music.
What this means for Windows Phone 7 users
Xbox Music Pass on Windows Phone 7 will continue to function just as Zune Music Pass always has. You'll still be able to browse and stream from the Xbox Music Store, pin content to your Start screen, subscribe to podcasts, and sync music to your device via the Zune software client (not the new Windows Store app). Newer features like cloud playlists won't be available, but neither will you lose any functionality.
It should be noted that Xbox Music and Zune use a slightly different DRM system, so Xbox Music Pass tracks downloaded through the Windows Store app will not show up in the Zune software client, and vice versa. Any content you own – be it purchased through Xbox Music or another service – will, however, be transferrable.
What this means for Zune/Zune HD users
As with Windows Phone 7, your good old Zune device won't be getting any new features. It will, however, continue to work like normal. While you won't gain any functionality, you aren't losing anything either. The DRM caveat above also applies, and you won't be able to sync with Windows RT devices since they don't support the installation of desktop applications like the Zune software client. Windows 8, however, is fully supported.
What this means for Windows XP/Vista/7 users
The new Xbox Music app will not be made available on older versions of Windows, so you'll need to continue using the Zune software client for your music needs. Once again, nothing is changing on the back-end, so the Zune software client will continue to work with the Xbox Music Store and Xbox Music Pass. In fact, you won't even notice a branding change. The only aspect currently up-in-the-air is whether or not you'll be able to continue using the Zune Pass credits, as previously discussed. Once again, the DRM caveat applies.
What this means for Mac/Linux users
The Windows Phone Connector for Mac will continue to allow you to sync your Windows Phone 7 or Zune device, but support for Windows Phone 8 is currently unknown. Linux has no official application support whatsoever, but Microsoft plans to release a web-based music client in the coming months.
Overall, Xbox Music is a compelling service offering unparalleled choice – streaming, internet radio, or a la carte track purchases. The best, however, has yet to come.