Accessory review: Noreve leather case for Google ASUS Nexus 7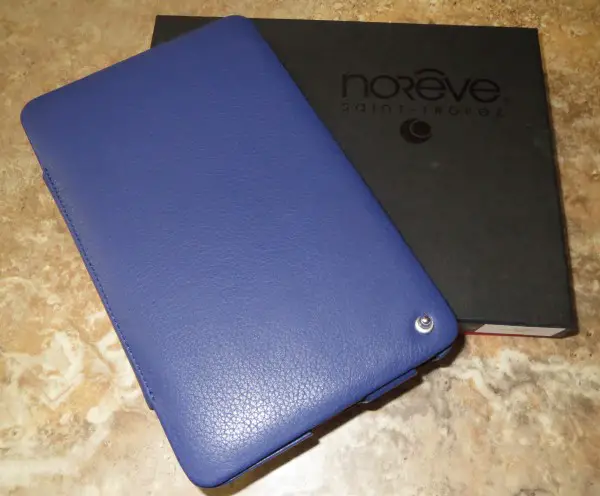 If you want to wrap your Google ASUS Nexus 7 Android tablet in something more luxurious than an inexpensive TPU case, then you might want to check out a premium leather offering from Noreve. Starting at ~$73 and topping out at ~$85, the folio case features Smart Cover-like functionality, adjustable horizontal stand positions, and all the cutouts you'd expect and need.
The French manufacturer has been producing "haute couture for mobile devices" since 2004, and it's no secret that I've been a fan for nearly as many years, but is a case that costs nearly half as much as what it's protecting a worthy investment? Read on to find out.
Packaging
Like most high-end companies, Noreve presents its products in a way that makes customers feel they're getting their money's worth, even before they get their hands on what they really paid for.
Yes, it's just a sturdy black-and-red cardboard box with a nice drawstring pouch inside it, but who wants to spend $75+ on a case and have it arrive in something that looks like it was hanging on a shelf at a drug store? The box and bag aren't meant to be thrown away, in any case, and can be reused for other things.
Design and Quality
Noreve's leather case for the Nexus 7 is available in the following leather styles and colors:
Perpetuelle (classic soft leather): black, white, gray, beige, pink, light blue, red, blue, brown, green, purple, orange
Perpetuelle Couture (classic soft leather with diamond-shaped stitching): black, white, gray, beige, pink, light blue, red, blue, brown, green, purple, orange
Ambition (pebble grain leather): black, brown, ivory, dark gray, yellow, green, red, indigo, cobalt, violet
Exception (vintage-textured leather): black, brown, red, blue
Illumination (varnished leather): black, gold, silver
The case reviewed here is the Ambition Selection in cobalt ($80).
There aren't too many surprises with the design, as there are only so many ways to make a folio case with all the proper cutouts, though the wire mesh for the speakers and embossed leather lining are certainly nice touches.
To me, what separates Noreve's case from the crowd are the top-notch quality of the materials, Smart Cover-like function (where the tablet automatically awakens when the case is opened and sleeps when closed), and the discreet stand options, evidenced by the grooves on the inside cover and the crease on the back. Tablet cases with built-in stands aren't new—and neither is this particular style—but I like how it doesn't have a flap on the back or a scrap of fabric or elastic attached anywhere.
The Ambition Selection's pebble grain leather is soft, supple, and slightly textured.  The case is nicely padded as well, so what you lose in the tablet's thinness you gain in protection and peace of mind.
Fit and Function
The Nexus 7 fits securely into the case with no problems. All of the ports/buttons line up with their cutouts and are easily accessible, as shown in the photos below, and basic functions can be done without having to remove the case. I've had some cases for other devices that needed to be partially removed for charging, so while access to essential ports should be a given, I'm still pleased when it's done right.
The official pogo dock still hasn't been released and I haven't tried any third-party microUSB charging docks, but I'm going to assume that this case isn't compatible with any of them.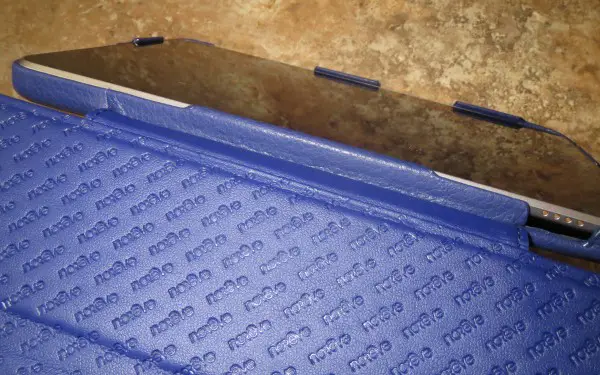 The pliable leather strip that attaches the two pieces of the case allows the front cover to fold completely backwards behind the tablet, which means you can hold the Nexus 7 without the flap dangling there awkwardly or getting in the way.
While there's obviously some kind of magnet in the front flap to take advantage of the Nexus 7's "Smart Cover sensor"—flawlessly, I might add—there aren't any magnets, buttons, or other snaps used to keep the case closed. Taking care of that is a rounded tab that clasps the side of the tablet and keeps it shut until you purposely open it.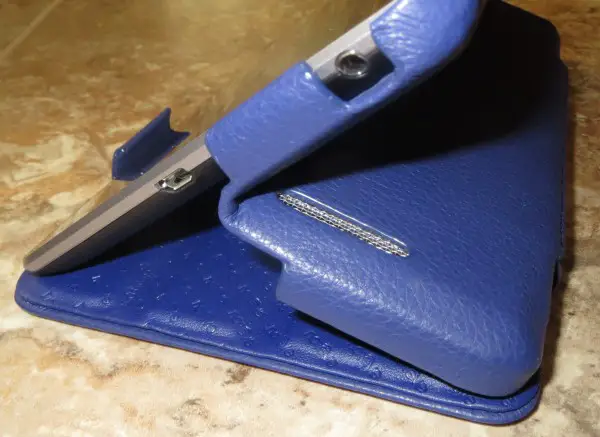 In addition to being able to awaken the Nexus 7 and put it back to sleep, the front cover is used to keep the tablet horizontally upright in three different positions. The crease in the back cover allows half of the case to be folded and removed from the tablet to achieve this. And although there are only two grooves in the front cover, corresponding to two different angles, the closure tab at the edge keeps the tablet from falling flat and gives it a third stand position.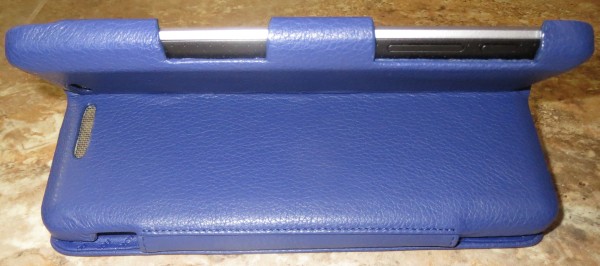 Conclusion
Premium brands don't appeal to everyone, and just as some people don't see the value of a $4,000 Rolex over a $30 Casio watch or $500 Manolos over $10 Payless Shoes, some will balk at the idea of spending $75+ on a case for a $200 tablet when there are cheaper alternatives out there.
But if you accept that high-end brands carry higher prices and are also of higher quality, then there's very little not to like about this Noreve case. It's stylish and well made, takes full advantage of the Nexus 7's magnetic screen sensor, doubles as a triple-position stand, and protects the tablet to boot.
The Noreve leather case for the Nexus 7 starts at about $73 and is available in multiple colors and leather styles directly from the company.