Accessory Review: Seidio ACTIVE with Metal Kickstand for the iPhone 5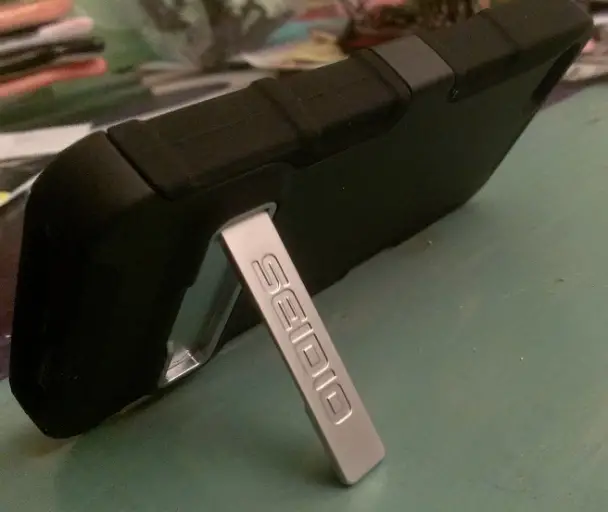 It's no secret: Seidio is one of my favorite protective case manufacturers, and I've previously reviewed their cases on the HTC EVO and iPhone lines, so forgive me if I'm a bit enthralled with this case from the get-go. The Seidio ACTIVE with Metal Kickstand is a case for your iPhone 5 that offers durability, scratch protection, and one of my favorite features: a kickstand.
The case is 2.2mm thick, so it doesn't add too much bulk to your already fairly large phone, and includes the Seidio-standard exoskeleton, which adds corner protection in case of accidental or deliberate dropping.
All ports are accessible and cut out perfectly, meaning no need to ever remove the case if you don't want to. The magnetic-lock metal kickstand can also pop out for the viewing of movies and photos, or just to keep your iPhone from sitting in a spill at Trivia Night.
The case isn't as scratch-resistant as some other brands, but it should handle the average pocket full of keys without showing scratches. The case is also slick, so it doesn't stick in your pockets. But it's also not slippery, even when a bit damp, so it won't fall out of your hands. It also has some sort of lint-repellent properties.
I attempted half-heartedly to destroy the case. While I think I could have broken the reinforcing shell if I tried, the inner cushion snapped back into shape from what I was able to throw at it.
On the down side, I'm not particularly thrilled that all the branding cues of the phone are missing. You've got the front of the iPhone, which has the home button, but that's the only visual cue you're left with when using this case. I'm not sure what they would have to do, short of removing chunks of the case to show the phone
The kickstand seems to be the same design they had on the iPhone 4 SURFACE cases we reviewed, and there have evidently been a few units where the magnet will decide to leave. While this magnet seems firmly in place, so did the iPhone 4 case I reviewed. However, the solution in the last case was a drop of glue, and the issue doesn't appear to be widespread.
It's a really nice if not very original looking case that could save your iPhone 5 from some tragedy in the future.
The Seidio ACTIVE with Metal Kickstand for iPhone 5 retails for $34.95 from Seidio Online, and there's still time to enter our giveaway, too.