Angry Birds Star Wars coming to all platforms on November 8
As rumored, Rovio Entertainment and Lucasfilm Ltd. have officially announced Angry Birds Star Wars, a game which combines the best elements of the addictive Angry Birds with the beloved Star Wars universe.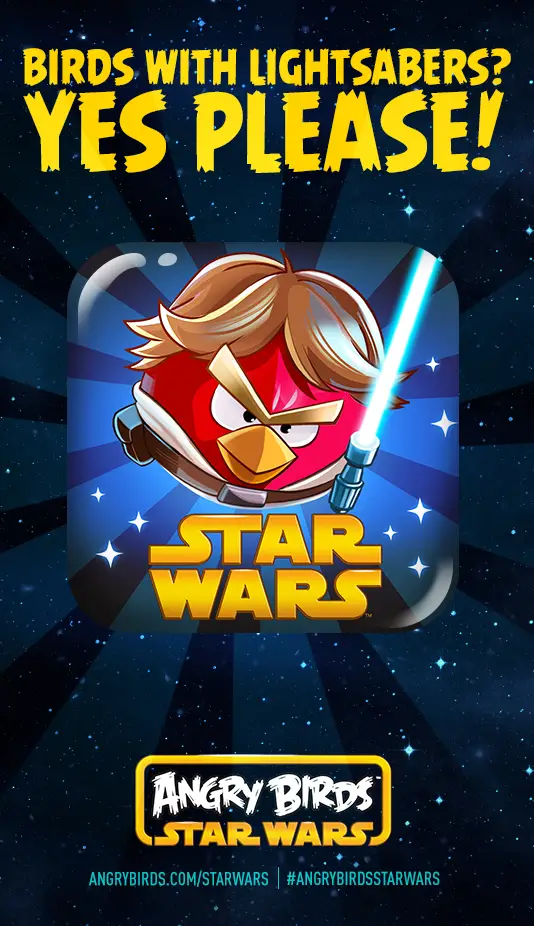 Famous Star Wars characters will take over the roles of the pigs (the Porkside) and the birds (Rebels without a squawk), including Luke Skywalker as Red Bird, Han Solo as Yellow Bird, Chewbacca as Big Brother Bird, Princess Leia as Blue Bird (now pink), Obi-Wan Kenobi as Black Bird, and C-3PO and R2-D2 as White Bird's Pelican Bird and Egg Bird. Darth Vader, of course, will play the role of one of the pigs. The gameplay itself will occur in a variety of well-known locations such as Tatooine, Hoth, and the Death Star, and hints of John William's famous score will be heard.
While the game itself looks quite good, Angry Birds Star Wars is perhaps most notable for the fact that it will be simultaneously released on Windows Phone, Windows 8, PC (presumably this means a traditional application on the Windows desktop), Kindle Fire, Android, iOS, and Mac on November 8. The launch of Windows 8 and Windows Phone 8 is scheduled to take place two weeks earlier, so Angry Birds Star Wars will most likely be the first title to simultaneously hit all major platforms. This alone should be commended.
Rovio and Lucasfilm also plan to launch a line of merchandise on October 28, including action figures, board games, plush toys, and Halloween costumes.
Some people might look upon the Angry Birds Star Wars announcement with cynicism, but Rovio CMO Peter Vesterbacka call it "The best Angry Birds game we've ever done." Who's ready to take down the Empire with physics?
[
StarWars.com
 |
Angry Birds Star Wars
]