HTC preparing to launch "Best Deals" app soon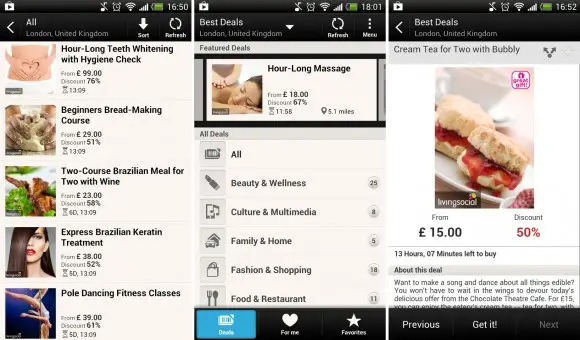 It looks like HTC will attempt to enter the "deals" market with its own "Best Deals" service, which will be available on future HTC Android and Windows Phone devices. The Best Deals app will be aware of your location and serve up local deals in your area based on your interests and preferences. Apparently, HTC will partner with services like Living Social, Trip Advisor, Qype Deals, and Offerum to serve up these deals.
Best Deals will initially launch in five markets: the UK, Italy, Germany, France and Spain. It will also be included at launch on the HTC One X+, and the Windows Phone 8X and 8S, which launch in November.
Eventually, HTC will expand the service to other markets, and international versions of the HTC One X and One S will get the Best Deals app in a subsequent software update – possibly the same one that will bring Jelly Bean to these devices.
Personally, I find the US market to be over-saturated with similar deals apps, so I'm hoping it will stay off American devices for the time being. But, on the off chance it does eventually make an appearance on my HTC EVO 4G LTE, it should be easily disabled in the app settings. If not, that's what rooting is for.
[
Android Central
 |
Slashgear
]