Review: Xbox Music on Windows 8
Earlier this week, Microsoft released the final version of Xbox Music on Windows 8. The next generation of Zune, Xbox Music combines music downloads, on-demand streaming, and personalized "radio" into a compelling package. None of these features are unique on their own, but Xbox Music combines them in an unprecedented fashion.
When you first start up the app, you're presented with a series of tiles broken up into four sections: my music, now playing, all music, and top music. The latter two sections – and a small part of now playing – are devoted to highlighting the best Xbox Music has to offer, from new releases and popular albums to featured artists and hand-picked collections. The "play all music" button found above the list of topic music is also a nice touch.
Drilling down into the Xbox Music Store, you'll find the usual browsing and sorting methods. From here, you can explore the artist, begin playing an album/track, add the content to your music collection, or purchase it with real money (credit/debit card or PayPal) or Microsoft Points. While many options are visible right off the bat, a few can only be found by selecting an individual track or invoking the app bar (right-click, swipe up/down from the edge of the screen, or hit Win+Z). Here, you'll find options to add the content to now playing or a playlist. There's also an option to send the content to your Xbox 360 via the Xbox SmartGlass app (review forthcoming) for playback through your home theater setup.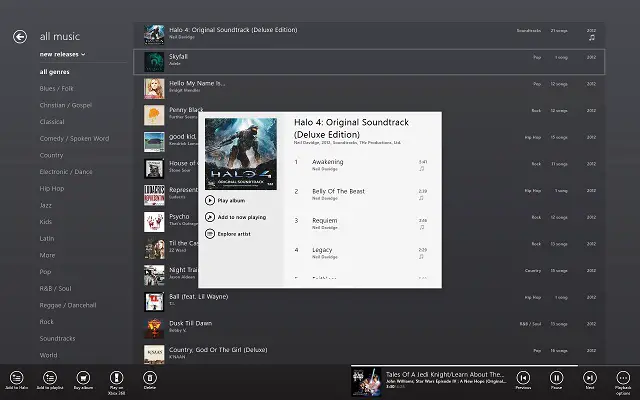 Like Pandora, Spotify, and Last.fm, Xbox Music on Windows 8 allows you to stream music for free as long as you're willing to watch the occasional advertisement. The ads are full-screen videos, but they didn't appear to be very intrusive. Better still, they seem to be somewhat infrequent. Xbox Music treats you to an unlimited amount of streaming for the first six months, but after that you'll be limited to just ten hours per month. While this doesn't seem like a lot, it's actually the industry standard. Spotify has the same restrictions. You can, of course, subscribe to an Xbox Music Pass for $9.99 per month (or $99.90 per year) for zero ads and unlimited playback on any device.
If you like to start listening to music with minimal effort, the now playing section offers quick access to artists, playlists, and Smart DJ – which creates a personalized playlist based on content on the Xbox Music Store and in your collection and places it under my music for future reference. "Play a playlist" brings up your list of saved playlists, which are synced across all of your Xbox Music-enabled devices. "Play an artist" and "New Smart DJ," on the other hand, bring up a menu of popular artists and a search box. Simply select your favorite artist, sit back, and enjoy.
The largest tile in the now playing section is devoted to whatever you're currently listening to. Simply select it to bring up the beautiful now playing screen, complete with music playback controls. It should be noted that the playback controls can also be found on the app bar, along with repeat and shuffle. And if the music is paused, you'll have to click on the now playing tile twice: once to start the music and again to bring up the now playing screen.
Like Zune before it, Xbox Music's now playing screen displays photos of the artist or album art and provides quick access to the song list. One area of this screen is contextual, changing between "play top songs for this artist," "play on Xbox," "play Smart DJ," and "add this song to your collection" depending on what is going on. On the right, you'll find the artist's bio and discography, as well as an option to create a Smart DJ mix. This is nearly identical to what you'd find if you explored an artist from the Xbox Music Store. Thankfully, if you'd prefer a nice full-screen playback experience, there's a handy option to hide the artist info. My only gripe is that I've encountered one or two instances where the back button – which returns you to the rest of the app – has temporarily disappeared.
Xbox Music supports Windows 8's snap feature as well, allowing you to place the app on one side of your screen for easy access. A few of the options like shuffle and repeat are missing, but it retains the beautiful now playing experience and gives you access to the playback controls, current track info, song list, and context-sensitive options. You can also add the content to a playlist or begin playing it on Xbox 360 via the app bar.
The fourth and final section of the app is my music. Here, you'll find a few recently played or added albums, as well as your two most recent playlists and a Smart DJ mix. The final tile is reserved for the "play all music" option, which turns on shuffle and instantly begins playing your collection.
Strangely enough, some of the best and worst aspects of Xbox Music can be found under my music. You can sort your collection by albums, artists, songs, playlists, or Smart DJs, and you can arrange the content by date added, a to z, release year, genre, or artist. Unfortunately, it's extremely difficult to navigate. Jump lists, a supremely useful staple on Windows Phone, are noticeably – painfully – absent. This means you have to scroll endlessly through a long list of content to get to what you want. Semantic zoom and/or the ability to jump to any letter based on keyboard input would have been a great alternative as well. Alas, you're relegated to scrolling, which only works when your mouse or finger are over the album list. If your mouse is on the left side of the app or at the very top, scrolling won't do a darn thing.
Xbox Music did a decent job of importing my music library, but a few albums were messed up in the process. This highlight's Xbox Music's most glaring flaw: it's impossible to edit the metadata for your collection. You can try to make changes in the File Explorer, Windows Media Player, or another application, but none of these seemed to work 100% of the time. This, along with the aforementioned navigation issues, needs to be fixed ASAP. Thankfully, this should be relatively easy to do in a future update, and the "match album info" feature helps alleviate some – but not all – of the pain.
But for as frustrating as the metadata situation is, I'd estimate that only about 5-10% of my total collection is affected. Once my music had been imported, I immediately began to see strange icons under the release year for each album. They can be somewhat cryptic, but the feature that they represent is extremely cool. The app will automatically attempt to match albums in your collection with content in the Xbox Music Store. If a match can be made, a cloud icon will appear next to the album, signifying that it is "available here and in the Xbox Music Cloud for streaming on other devices." In laymen's terms, if you pull up the Xbox Music app on another device, you'll see that very same album in your collection, even if it's not physically stored on the device. But instead of a cloud, you'll see a streaming icon. The end result is a music collection that's available no matter where you are.
Of course, while Xbox Music has a vast catalog of over 30 million tracks worldwide – which is comparable to iTunes – you won't be able to find everything in the catalog. In this case, the content will only be available for local playback. Microsoft plans to add a cloud-based music locker in the coming months, allowing you to upload everything you own. But even without everything, the ability to have your music collection sync across every device you own is very cool.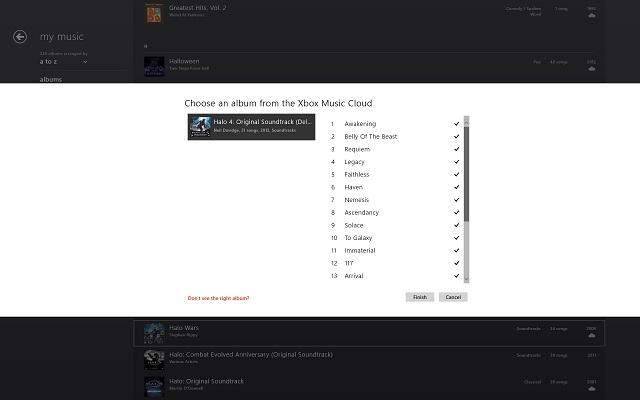 I had a few issues getting the app to match some of my albums that I knew were in the Xbox Music catalog, but I was able to get around it by using a combination of the "match album info" feature; re-downloading the content from the Xbox Music Store; and moving the content out of and back into my Music Library in the File Explorer. Now, I'd estimate that a good 75-90% of my library has been matched in the cloud.
Xbox Music will automatically add anything you download to the music collection on your other devices, but only in a streaming capacity. You can, however, tell the app to actually download new items in the preferences. Conversely, you can disable music downloads when you add something to your collection, opting for just streaming instead.
It's important to note that Xbox Music uses a slightly different type of DRM than Zune, so any content downloaded through the Xbox Music app won't appear in the old Zune software client. The reverse, however, is not true, and it's a nice improvement over the pre-release version of Xbox Music.
Windows 8 features like Search, Share, Devices, and Settings Charms are also supported. From here, you can search the Xbox Music catalog; share music with friends via an app or social networks; send content to your Xbox 360; and manage preferences like the startup view, Xbox Music Cloud sync, and automatic metadata updates.
I was a little hesitant going into Xbox Music, since most of the marketing revolved around playlist synchronization and not the fact that it will match the content you own with the Xbox Music catalog. But I was pleasantly surprised by the Xbox Music Cloud and happy to learn that content added to playlists automatically appears in your music collection, even if it's only being streamed. The best, however, has yet to come. Over the course of the next year, Microsoft plans to add the aforementioned cloud storage and new social features. Xbox Music will also expand to other platforms with apps on Android and iOS, as well as an HTML5-based web player.
Xbox Music has a few glaring flaws, but that doesn't stop me from highly recommending it. For the most part, it has managed to exceed my already high expectations. If you have a Windows 8 or Windows RT device, there's no reason not to take advantage of the free music streaming. But it gets even better when you can use the service with the other devices you own, like Windows Phone, Xbox 360, and eventually non-Microsoft platforms as well. Xbox Music comes preinstalled on all versions of Windows 8 and Windows RT, but if you deleted it for some reason, you can follow the link below to download it.
Download: Windows Store