Supposed Nexus 10 "Quick Start" manual leaks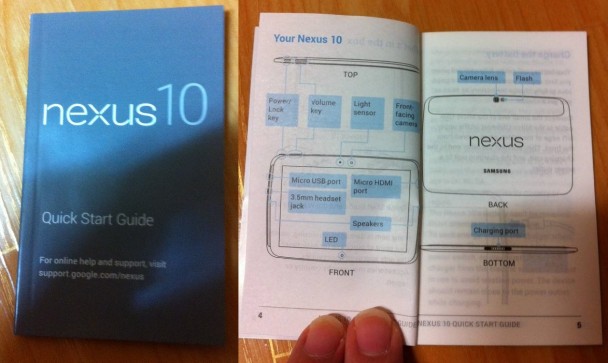 We've seen plenty of leaks concerning different versions of the Nexus 7, such as  3G connectivity or expanded storage. However, rumors surrounding a Nexus 10 tablet have been fairly scarce, with only speculation and some leaked EXIF data to go on. Now, we have something that looks a little more like hard evidence, in the form of a quick start manual for the yet unannounced Nexus 10.
While the manual doesn't reveal much in the way of specs, it does show what the Nexus 10 might look like and which hardware features it might have. Obviously, the tablet drawn here is made by Samsung, which has been the general consensus of Nexus 10 rumors so far. The drawing also shows the standard power and volume buttons, light sensor, front facing camera, rear camera with flash (an upgrade from the Nexus 7) and headphone jack, but there are also a few extra interesting features. First, there's the LED notification light on the front, which seems to be placed much like the light on the Galaxy Nexus. There's also the HDMI port, a welcome addition that is noticeably lacking from the Nexus 7, and front facing speakers for better sound quality. Finally, there is both a charging and microUSB port, which suggests a large battery, as well as likely USB host.
I've always been partial to 7-inch rather than 10-inch tablets myself, but the Nexus 10 does look like quite a good option. Between the rumored high-res display and fast processor from Samsung and stock Android from Google, it could turn out to be quite the tablet. If the price is right, it could potentially put even more pressure on Apple's iPad. We still don't know for sure if any of this is final or even real, but hopefully we will find out more at Google's upcoming announcement.
[
SeeKo
via
Reddit
]