The 32GB Nexus 7 is nearly official as details, advertisements, and order information emerge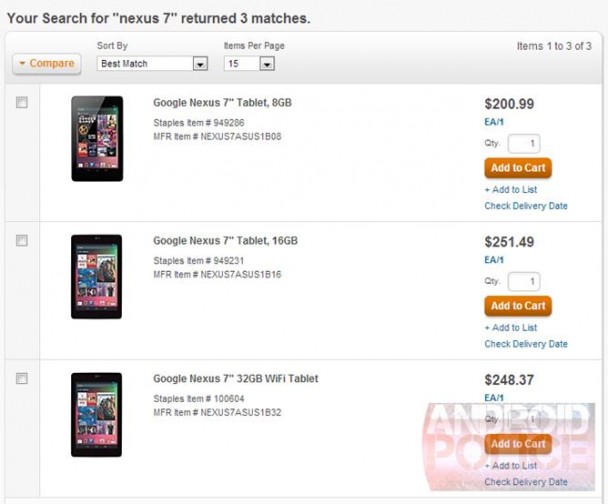 A short while ago, we reported on some rumors of a 32GB Nexus 7, which was priced around $270. Since then, there have been quite a few more leaks and rumors that make the device look like a reality, and let us know a little more about its price. So now that things are a bit more clear, lets take a look at what we know.
From CNET UK, we have an advertisement for the UK market showing a 32GB Nexus 7 at only £199 Pounds, and with a battery life of 9.5 hours. The price is nearly the same as the current 16GB model, and the 9.5 hours of battery is slightly higher and more specific than the currently advertised 9, perhaps due to some power management changes that have to do with Android 4.1.2. Then we have an advertisement from the US Staples Advantage site, with the 32GB Nexus 7 priced at $248.37. Despite the oddly specific price, it seems clear that the 32GB Nexus 7 will take over the price point of the 16GB version, potentially pushing the current devices down in price.
Finally, we have Reddit user kingdaan, who ordered a 16GB Nexus 7, and had his order delayed for three weeks with the promise that when the device ships, he will be getting the 32GB version. This not only confirms the $250 price, but also gives an estimated timeframe of about three weeks from now, in early November, for the 32GB model's release
While it seems a bit early for a reshuffling of the Nexus 7 line, the change will no doubt be welcomed by prospective Nexus 7 buyers. Who doesn't want more space for the same money? However, those who recently bought the tablet, myself included, may feel a bit cheated if the price on each version drops $50 to make room for the 32GB version. Personally, I'd love to have a 16GB tablet instead of 8GB, and I'll be at least a bit annoyed if the 16GB tablet costs as much as I paid for the 8GB version such a short time after my purchase. (Especially since much of that time was wasted sending the tablet in for repairs.) Aside from that potential problem, as long as Google does something nice for existing customers, the imminent release of the 32GB Nexus 7 should work out well for everyone.
[
CNET
|
Reddit
|
Android Police
]