A reader's quest to find the best prepaid CDMA service
The following guest post was written by Kyle Moore. If you'd like to submit a guest post of your own, please get in touch!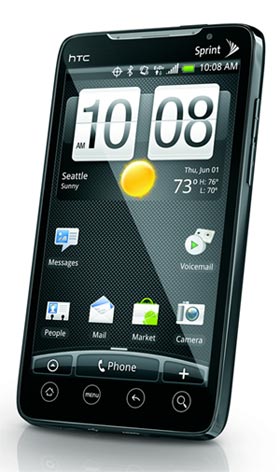 When the original HTC EVO 4G came out two years ago, I had a regular flip phone. I thought, "Why is everyone so enamored by these smartphones?" But then I ended up preordering the EVO after reviewing everything it could do. I picked it up on launch day, and so began my life attached to a smartphone. I could do everything with that EVO: I watched movies on it, I browsed the web – it was easy to forget that I could also simply text or make phone calls. I Skyped on it, typed emails to friends, and used it for work emails as well. I thought it couldn't get any better, but then I rooted it and started putting custom ROMs on it, flashing day and night.
Long story short, a year later, I was still paying that extra $10 premium data fee on my phone bill. I thought about how I use my WiFi a lot when I am at home and work, and wondered why I was paying Sprint so much each month. That sent me on a journey to find the cheapest wireless plan I could.
I originally stayed within the Sprint family and went to Boost Mobile, lured by the possibility of getting my bill down to $35 per month on a smartphone. But that meant I had to give up my sidekick, my EVO! (I didn't want to mess with the potentially illegal prospect of changing my IMEI.)
I struggled at first with a less-capable smartphone, but soon adapted. However, I kept searching, wondering when someone would come out with a service that would let you use your WiFi at home, work, and wherever you could pick it up, and use the cell network on an as-needed basis. After all, I rarely talk while I am driving, and I certainly don't text and drive – people have a hard enough time walking on a street while they are glued to their phone screens! I continued to hope that someone, someday would think that the big providers have it all wrong.
Well, just about two months ago, I ran across Ting. Ting is the revolution in wireless that I have been waiting for. It has a simple, straightforward pricing scheme, based precisely on how many minutes, texts, and megabytes you use – just what I was looking for. For a while, I just followed its blog and browsed its device offerings for a while, and since Ting uses the Sprint network, I thought that it might be a good option for me.
I have found that other companies either control your usage, or have you pay a lot of money for unlimited everything, which isn't bad if you only use your phone for everything. But since I already pay for WiFi at home, and I have access at work, I thought that I might be able to get my bill down fairly low with Ting. In fact, if I didn't have to make any calls while out and about, and relied on WiFi for data, VOIP calling, and texting, I could in theory have a $6 phone bill!
But then Ting announced something even more intriguing: it was rolling out a BYOSD program (Bring Your Own Sprint Device), and it wanted some alpha testers! So I joined the Ting army as fast as I could, and so far it seems to me that Ting understands what people want from their providers: simple billing and pricing, no contracts, and use of all the features Google wants you to use without added cost (i.e. I can tether without paying Ting any extra fees).
I was actually included in the second round of testers, and the process was extremely easy. I was in constant contact with Ting while I was walked through the adoption process. I went into storage, pulled out my old EVO 4G, and fired it up. I simply had to reprogram two things using some ## commands on the phone dialer, and I had to know my MSL code. Before I knew it, my old EVO friend was back with me, resurrected from the dead!
Now, it is like I never left. EVO 4G ROMs are still just as amazing, and everything just works with Ting. I have tethering, I can still use 4G WiMAX, and best of all, I am now in control of my usage and my phone bill! I payed less than $15 to set myself up on the smallest options for voice, text, and data usages (100 minutes, 100 texts, 100 MB). I have sent three texts and made two phone calls, just to test out the service, and I used up just 37 MB of data. Even so, I haven't changed my usage on the phone – I call over WiFi now, and it sounds the same as the regular cellular network – and sometimes even better. But I still I have full access to any service available through Sprint when I need it.
Ting is also by far the best company I have ever worked with from a customer service standpoint. Everyone at Ting is genuinely excited about what they are doing, and so am I. For the first time, I feel that a company has placed the customer's best interests first, and understands that they are revolutionizing the industry. I think that the pricing plans will change for the better as more customers see the promise and realize the benefits of being in control of their own usage.
For the heavy mobile data user, it might not yet be time to try Ting, but for everyone else, the base plan is just $6 to have a phone. Your whole family can share your minute, text, and data buckets, and you have complete control over every phone. There is a great dashboard that tracks usage in real time, and you can limit usage on any line.
I hope it takes off, and I feel privileged to have been a part of the first test for BYOSD. Ting is also planning on expanding the ability to bring any device, but for now, even just allowing you to bring an old Sprint device is awesome.
The above guest post was written by Kyle Moore. If you'd like to submit a guest post of your own, please get in touch!