Accessory review: Targus Drifter II Plus backpack
If you've been looking for something to transport all of your technology safely from point A to point B, you might have run across the Targus brand of backpacks. The Targus Drifter II Plus is one such that is specifically designed to transport laptops, electronics, and anything else you can fit into it with its patented SafePORT air cushioning technology.
The SafePORT technology consists of a squishy foam-like bar that fits in the bottom of the laptop carrying pouch, which can be used for pretty much any flat technology but is designed for up the 16-inch notebooks. Other than the one squishy impact-absorbing foamy thing, the protection seems to consist of a strap that will keep your device from fleeing the pack if the pouch is unzipped.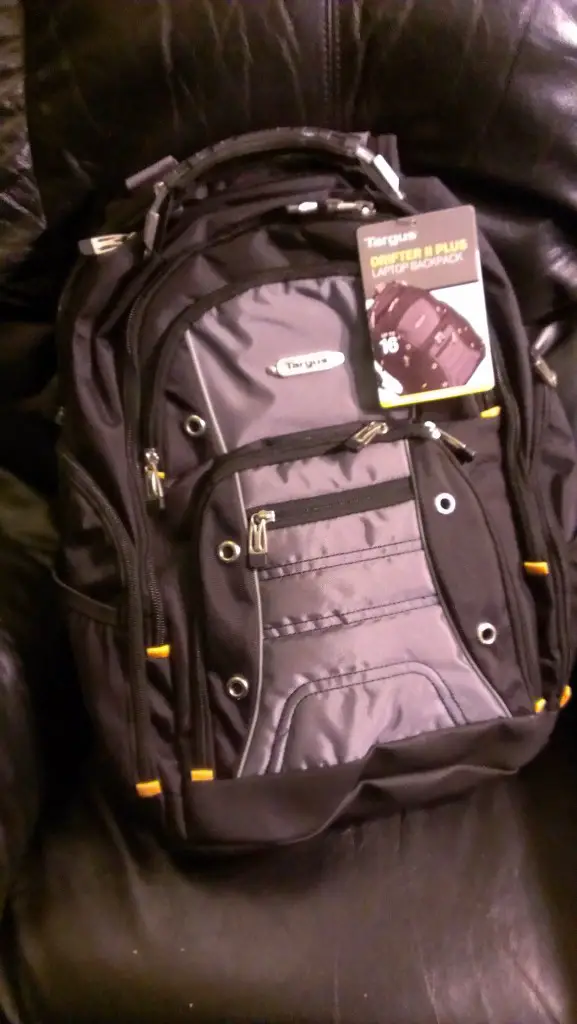 As far as I can tell, the protection is only on one side (the bottom), and the protection from the front and back consists of whatever you happen to have stuffed into the pouches (of which there are many). Protection on the sides, eh, not so much. The top I sort of feel like the handle, as long as the zippers are zipped shut, might help out. But for all-encompassing protection for a laptop or tablet, no. It's good but not perfect.
There are tons of pockets, zippers, and pouches all over the bag, which are useful for chargers, cables, USB sticks, media, phones – there are two pouches that appear to be for phones, that will carry up to the size of an EVO 4G LTE (and perhaps a little larger). Multiple webbed pockets keep things in place and allow you to see what you're carrying. It also has pockets for pens, if you're into carrying old school writing devices.
The handle of this pack is pretty solid feeling and really neat looking. It consists of a fabric strap that has been backed up by what appears to be a laptop security cable encased in clear plastic and wrapped by a rubberized handle. I think the whole handle apparatus is attached at two separate points, so you might be able to lose one handle and not drop the pack. I wouldn't bet too much on that, though, as the secure points are very close to each other.
The zipper pulls are extremely nicely made; the teeth are probably the second best I've ever played with on the zippers that would need strength. The interior zippers are not as great, but they're also not load-bearing.
The backpack by itself is a bit heavy, coming in at 4.31 pounds without anything in it. And while most manufacturers would throw in a chest-strap to prevent the straps from separating and causing back stress at this point, this one doesn't have that.
There are plenty of yellow loops on the pack, which are useful if you want to slap a bungee-web on the back or hook up a traveling bear to tag along permanently. The backpack also has a built in pouch away from the electronics for a water bottle, or a can of Mountain Dew, or other beverage of choice.
After playing around with this for the past couple of days, I'd say it's a pretty awesome backpack for carrying all your tech devices in one place; it even has pockets to keep all of your glass-front devices away from each other – so many that you'll often forget which pocket you've placed a device in. Sometimes too many choices are too many.
In the end, it's a pretty sweet looking backpack, and it'll do a good job of protecting your investments. It's not perfect, but if you're looking for a gift for your technology, this is a good one.
The Targus Drifter II Plus backpack retails for $79.99 from Targus's website.