Accessory review: Seidio Innocell Plus for Samsung Galaxy S III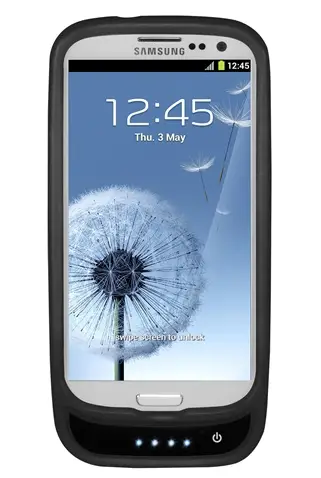 The Seidio Innocell Plus is a line of protective cases that prolong your phone's battery and overall life. When your phone starts complaining that you're low on battery, you can press a button and the battery that's sitting in the case will kick in and provide juice to your phone.
The 1750mAh battery and the protective portions of the case are very well made. The corner protection that the case offers is superb, and the extra kick you get from the case may make it worth expanding the length of your GSIII by a couple of centimeters or so. That's taking an already large phone and slaping a larger case on it, so that's your call.
Where the case failed, and failed quickly, was that after day three it was taking over twice as long to charge the phone while in the case, and the connection didn't feel right. A little poking around revealed that the USB port on the case was not secured properly and shortly after that the USB port completely fell out of the case, rendering it pretty much useless, unless you have a Seidio external battery charger around (which oddly I do).
I contacted the company and was informed there was a bad batch, and that's what I got. So it was a known thing and hopefully fixed in all subsequent cases. If you get one and it has a loose USB port, though, it's time to contact support.
Ok, on to some stuff I did not test on this case due to the timeframe of operation and subsequent death of the charging port: USB pass-through is claimed on the product page, so there should be no need to take the case off to sync to your computer. I also didn't get to test USB draw rates when connected to a computer – most phones will only pull 500mAh, as opposed to 1000mAh when connected to a computer. I really did want to see if the case went by those specs.
Also, since the GSIII has a 2100mAh stock battery, the 1750 that comes with the case is not going to even double your life for turning your phone into a vary large brick-looking device. It's also not going to provide 83% more battery life due to loss during power conversion. I think the average loss is about 20%, so you're looking at this to gain an additional 65% battery runtime.
Personally, I think I'd invest in a portable charger or a couple of other batteries until Seidio can bump up the capacity of the Innocell Plus cases. Sure, swapping out batteries isn't fun, but I think it's a better solution than turning your phone into a brick for 65% more runtime.
The Innocell Plus for the Samsung Galaxy S III retails for $69.95 from Seidio Online.