Apple pulls non-compliant statement from UK site, publishes revised statement in UK papers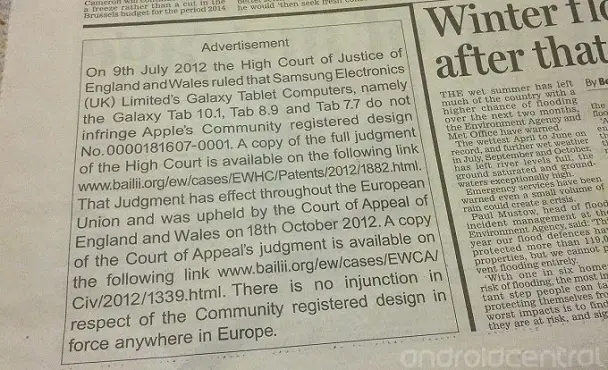 In a move that has surprised absolutely no one, Apple has pulled its earlier non-compliant statement from its UK site. You know – the one that was ordered by UK courts, in which Apple was supposed to admit that Samsung didn't infringe on any of its patents, and in which Apple basically resorted to a passive-aggressive temper tantrum. Yeah, that one.
Nothing has replaced that statement online quite yet, although Apple still has a few more hours left. However, in its wake, Apple has published a rather boring advertisement in UK papers, as it was also required to do. Only this time, Apple resorted to dense legalese, probably in the hopes that British citizens would find it too boring to really pay much attention to it.
It may seem that I'm giving Apple a hard time here, and it's true: I am. I have repeatedly stated that Apple needs to start, you know, innovating, rather than simply dragging to court whomever it feels threatened by. In simpler terms, Apple – in my opinion – has abused the patent system, and at least the UK has had enough of it.
Stay tuned, as we'll update this post once Apple posts something new on its UK website.
[
Android Central
]