AppyFridays launches tomorrow, celebrates with six free Mac OS X apps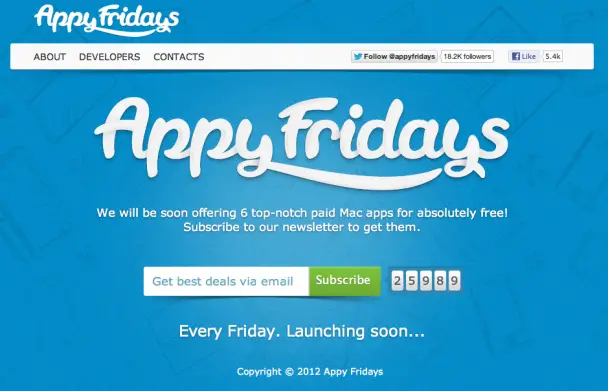 AppyFridays has just reached out to me to announce that it will be launching tomorrow. To celebrate, it'll be giving away six Mac apps for free – provided that you're signed up for the site's newsletter – and will continue to "negotiate about special discounts" with the developers of the team's favorite apps.
You can go sign up for the newsletter by hitting the source link below, but here's a list from AppyFridays consisting of what the site will be giving away tomorrow:
MacCleanse – Powerful application geared towards keeping your hard drive clean and perfectly functioning.
Hider – Must have app if you need to hide your files from unwanted eyes. Keeping your data safe easily.
Tunes Cleaner – Instantly add missing album titles, cover art, etc. Keep your iTunes library neat and organized.
Musictube – Convenient YouTube music player. Surf through and listen to millions of songs.
Picturesque – Apple Design Award winner, magnificent app to make images look gorgeous for the web.
Colorado Desktops – Hundreds of astonishing Mac wallpapers from photos by pro photographer Richard Seldomridge.
Altogether, the six apps would normally cost $90 on the Mac App Store – but AppyFridays is giving them away in exchange for your email address, which in turn will allow you to get newsletters containing more free and discounted apps.
[
AppyFridays
]