Quick app review: Sonic Jump for iPhone
As you may already know, my first true encounter with technology was with a Sega Genesis. My father had brought the console home one night – complete with a great set of games – and right away, I began playing with it.
Since it was a Sega system, I obviously had more than a few Sonic the Hedgehog games. I became completely enamored with the little blue hedgehog, and was one of the Blue Blur's biggest fans – a title that I believe I still hold to this day.
Naturally, whenever Sega decides to release a new Sonic game – regardless of platform – I jump on it as quickly as possible. The latest Sonic title, called Sonic Jump, was released on October 18 of this year. It's a departure from the typical run-and-drop games of Sonic past; instead, it is essentially a Sonic-ized version of Doodle Jump and similar games.
There are two modes, story and arcade, but story mode doesn't actually walk you through a story: it's just 12 levels bunched together in each Zone, of which there are (currently) three. Like most Sonic games, the first Zone is Green Hill, but the other two are variations of existing Zones found in other titles.
The first 11 levels of each Zone consist of just jumping around. There are baddies to beat up, and rings to collect, but for the most part, you're just trying to get your little Sonic sprite up to the top of the level.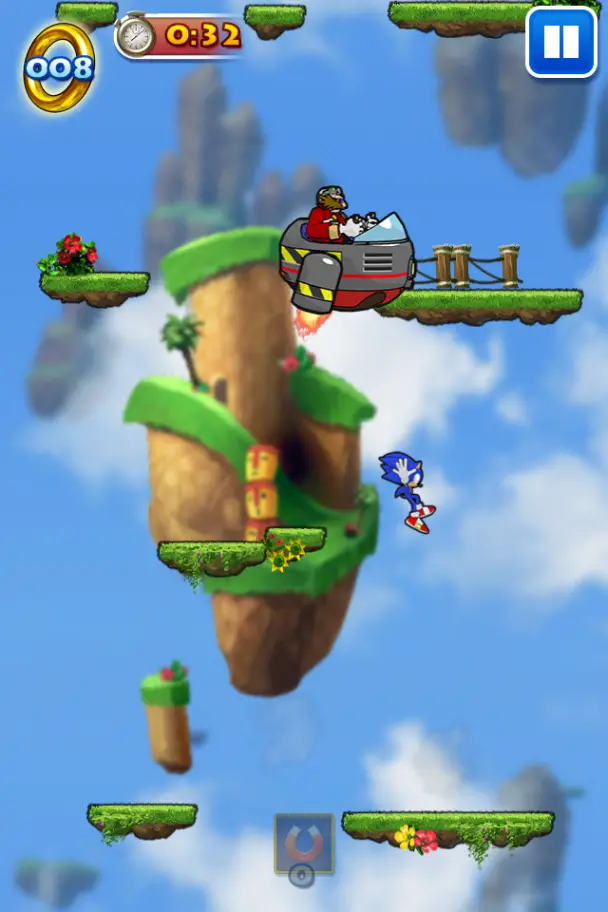 The 12th level, though, is the boss level. Eggman will come with his machine and you'll have to jump Sonic into it three times to defeat him. It's very reminiscent of older Sonic games, but it's also got a new twist in the fact that you're still platform-jumping while you try to defeat Eggman. It's actually really fun, jumping from platform to platform while slamming into Eggman's cruiser.
As for arcade mode – well, all you do is jump around and beat up Eggman whenever he shows up. It's a continuous level, though, and it's a lot of fun trying to beat your prior high score.
As you can see, Sonic and Dr. Eggman's various baddies are very beautifully illustrated, as are the platforms and the Green Hill Zone background. I expect no less from a Sonic game, and thankfully, Jump meets all of my expectations.
Aside from that, game mechanics work wonderfully and frame rates are always in balance, all while maintaining a level of visual appeal that I haven't seen on other platform jumper games.
With the "Sonic-ization" of a platform jumper game comes Sega trademarks: beautiful soundtracks, great art, and varying level design that can frustrate you – all of which will make you play for even longer. Sega pulled off the combination perfectly, and because of it was able to make a truly fantastic mobile Sonic game.
At (normally) $1.99 on the App Store, Sonic Jump is a bit of a heftier investment than games like Doodle Jump. At the same time, though, it's much more beautiful and fun to play – not to mention nostalgic, since it brings a lot of elements from the original Sonic games to a brand-new audience.
Because of the beautiful graphics, wondrous soundtrack, and simply stunning gameplay, I wholly recommend Sonic Jump. Especially since it's only $0.99 right now at the download link below.
Download: iTunes