The Starfish watch is a lesson in how not to launch a product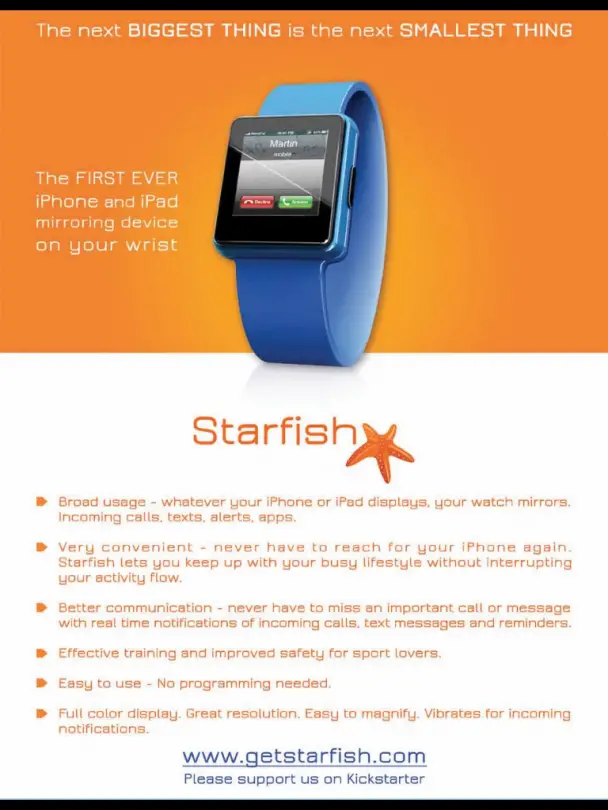 Back in October, I downloaded the latest issue of iPhone Life through Zinio on my iPad. It was the November-December issue, but like magazines always do, it came out to (digital) subscribers in October. At the end of the issue, there was a full page ad for something that got me very interested: A smartwatch for iOS that mirrors the device on your wrist. I assume it uses Airplay to do this, and while that doesn't sound like something that would last long on a charge, it does at least sound interesting. That's why I checked both the website and Kickstarter – both of which are mentioned in the magazine ad – and was met with nothing but a placeholder website and no Kickstarter project in sight. Fine, I though, the magazine is out too soon – I can wait.
Fast forward to today, and I've frankly lost all interest in the so-called Starfish watch. Never in my life have I seen a product launch so poor. The website shows the same placeholder information it did back when I first visited, and Kickstarter shows no sign of a Starfish watch. The Twitter account I found is still just as dead, and there's no one responding to anything there. The Facebook page has questions from users who've heard about the watch going back to the beginning of October, with only a couple of messages from the Starfish company itself. The messages promise a Kickstarter page by Thanksgiving (didn't happen), and then a couple of weeks ago a message was posted about manufacturing progress. Wth? Isn't that what you need Kickstarter for?
The company's handling of the situation has been horrible. It paid for an ad in a magazine that has been spreading the word to people for two months, all the while the information in the ad becomes more and more outdated for each week. During that time it's made seemingly no attempt to benefit from the attention, and basically just dug a hole to stay in until people have walked away. Well, consider your mission successful: I'm walking away. You had me excited about this product two months ago, but now I'm starting to wonder if it's just another Crux Loaded. I can tolerate unexpected delays, I can't tolerate a company that can't communicate. There are too many of those already.
The reason I'm posting this is that the project will eventually appear on Kickstarter. There's a lot of shady projects on Kickstarter, ranging from outright scams to people who simply have no clue how to launch a product, and end up making the backers pay for it. From what I've seen – or rather not seen – from the Starfish watch so far, this is going to be another one from the latter category. A Kickstarter project from a company that can't communicate is not going to end well.