Tip: Don't sync your Facebook contacts for a better experience on your HTC EVO 4G LTE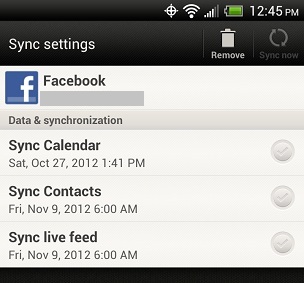 When I asked you yesterday if you've also been experience some serious SMS and dialer lag on the HTC EVO 4G LTE, I had no idea the response would be so strong. Lots of you have been discussing your own personal experiences, and the lag problem doesn't seem to care if you're rooted or not.
According to G&E reader Tanner, the root of the problem seems to be bug related to syncing contacts with Facebook:
I've confirmed that the slow loading of contacts (which affects the Messaging app, People app, and and anything else that does contact lookup) is indeed related to Facebook contact syncing. Once I reset my contacts file and removed all Facebook data, everything was back to normal again.
Since this issue only seems to be affecting HTC Sense users, I'd add that it is probably an issue with Facebook for HTC, which is an underlying app that actually takes care of the syncing, rather than the native Facebook app. In any case, no longer syncing with Facebook has seemed to clear up this issue for many people, but – of course – your mileage may vary. While some are swearing by this solution, others say that it's only a temporary fix, and that the issue will return again later.
To disable the contact sync, just follow these steps:
Go to Settings > Accounts & sync > Facebook. Uncheck Sync Contacts and Sync live feed.
Go to Settings > Accounts & sync > Google. Uncheck Sync Contacts.
Go to Settings > Apps > All > Contacts Storage. Select Force stop, Clear cache, Clear data.
Reboot your phone.
Launch the People app and make sure your contacts are not listed.
Go to Settings > Accounts & sync > Google. Select Sync Contacts, and wait for Google to finish syncing. Do not reselect contact sync in Facebook.
Tanner wrote:
Voila! Once I did the above, speed of all the apps accessing my contacts file was back to normal, and my contacts file itself shrunk down from 37MB to 6.5MB!

PS – I haven't turned Facebook syncing back on just now since it's possible that turning it back on would slow everything down again. I'm not sure. For now, I prefer to just leave FB Contact syncing off until I have more time to play with it again.
If you try this, be sure to let us know if it works for you – and for how long.