Which tablet should I buy? [Holiday edition]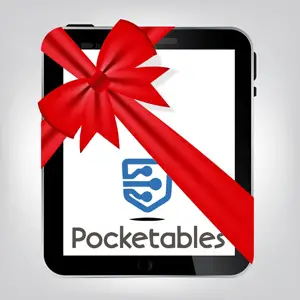 Earlier this week, I brought up some questions you need to ask yourself if you are in the market for a new tablet. Now that you have the answers to those questions, let's take a look at exactly which tablets that are on the market right now. As I previously explained, the financial question is probably the most important one, so I will use that to break down our choices.
Keep in mind that this isn't intended to cover every single tablet available on the market today. Instead, I decided to focus on some of the more popular choices. This doesn't mean that the other tablets aren't any good, but there is probably a good reason they aren't as popular, whether it be price, features offered, or the track record of the manufacturer.
You should also note that I'm considering the options with the least amount of internal memory when I choose the budget category for each tablet. For example, the iPad Mini starts at $329 for the 16GB version, which is mid budget, but it has a 64GB version available for $529, which is obviously much more expensive. I'm also only looking at WiFi versions; many tablets have a cellular network version available.
Low Budget ($100-$250)
In the low budget category, you don't get a lot of choice when it comes to screen size or operating system: You are pretty much stuck with a 7-inch tablet running Android. But not having a choice when it comes to those two questions doesn't necessarily mean that you are getting a piece of junk. There are some very capable tablets in this range, so let's take a look at four of the popular ones.
Amazon Kindle Fire HD | Nexus 7 | Nook HD | Samsung Galaxy Tab 2 7.0
Out of these, I would choose between the ASUS Nexus 7 or the Samsung Galaxy Tab 2 7.0; both are built very well and should last a long time. The Nexus 7 is running the most pure form of Android you will find since it comes straight from Google, while the Galaxy Tab has Samsung's "improvements" added on top of Android. Some people love what Samsung adds to devices, whereas other people can't stand the TouchWiz user interface. You need to decide if this is important to you or not.
I personally don't like the tablets by Amazon or Barnes and Noble for a few reasons. Mainly, they heavily modify Android to a point where it is almost unrecognizable. This means that they pick and choose what features they want to leave in, and which ones they don't think are important. It can sometimes be impossible to get to certain features like the proxy settings, or even the Google Play Store. Amazon and Barnes and Noble also want you to use their own app markets so that they make all the money, which makes sense,  but can be very annoying when an Android app isn't available in its store. I have seen some instances where you can get an app for free on the Play Store, but have to pay for it through either Amazon or Barnes and Noble.
If you decide to go with either a Nexus 7 or Samsung Galaxy Tab 2 7.0, I believe you will be very happy with your choice.
Mid Budget ($250-$450)
In the mid budget range, your options really start to open up. You have a choice of operating systems (Android and iOS), and you can also choose between a 7-inch or a 10-inch screen size. Let's take a closer look at which tablets we have in this category.
Apple iPad Mini | Apple iPad 2 | ASUS Transformer TF300 | Nexus 10 |Samsung Galaxy Tab 2 10.1 | Sony Tablet S | Toshiba Excite 10
As you can see, you get a lot more choices – a lot of companies make really nice tablets in this range. If you are an Apple fan, then the 7-inch iPad Mini or 10-inch iPad 2 is for you. Even though there have been two generations released since the iPad 2, it is still a very capable device, and one that I use every day.
If you choose Android in this category, you have a lot more choices. I'm a huge fan of the ASUS Transformer series, especially if you are transitioning from a laptop to a tablet for daily use. The mouse support you get with Android and the keyboard dock make the Transformer a great choice. But if you need the most amount of memory at the best cost, then the Toshiba Excite might be for you, coming in at $379 for a 32GB version. If you want pure Android, then give the Nexus 10 a look – it won't come with any manufacturer's software additions or apps, and it's got the highest resolution of any tablet in any category, period.
Honestly, I don't think you can go wrong with any of the seven tablets that I have listed here.
High Budget ($450+)
If you are shopping in the high budget category, it most likely means you are looking for a 10-inch tablet. In this category, you can choose between Android, iOS, and Windows. Storage options tend to be more spacious, too.
Apple iPad 4 | ASUS Transformer Pad Infinity | Microsoft Surface | Samsung Galaxy Note 10.1
This group is all about what OS you want to use. If you decide that you want a Windows tablet, then the Microsoft Surface is your answer. It runs the new Windows 8 RT, which has been largely redesigned around the idea of using it on a touch screen device. There are a lot of cool features included in the Surface, and you can read about some of them here on Pocketables.
If you decide you want to use iOS, then your decision is an iPad. Now, you'll just need to decide whether you want a WiFi-only iPad, or if you need one with 4G LTE. You also have a choice of colors, and how much storage you want your iPad to have. The iPad is a great device, very well made, and Apple supports their devices better than anyone else. If you choose an iPad, you will also get some of the best customer service of any company in the market.
The choice to get an Android tablet in this range leaves you with two really good options: the ASUS Transformer Pad Infinity or the Samsung Galaxy Note 10.1. Both of these devices are built very well, and each have a unique feature that sets them apart from the rest of the market.
One of the coolest parts of buying an ASUS Transformer series tablets is the keyboard dock. If you buy one of these tablets, the dock is a must-have accessory in my eyes. It adds another five hours of battery life to your tablet, as well as giving you a full size keyboard, touch pad for mouse control, a full-size USB port, and an SD card reader.
Wrap Up
This guide mentioned nine different manufacturers and over 40 different iterations of their 15 tablets. I hope that this has helped you to narrow down your choices this holiday season, but if you have any questions about a specific tablet, please don't hesitate to ask in the comments section below.