Win a PlayStation Vita prize package from Sony Entertainment Network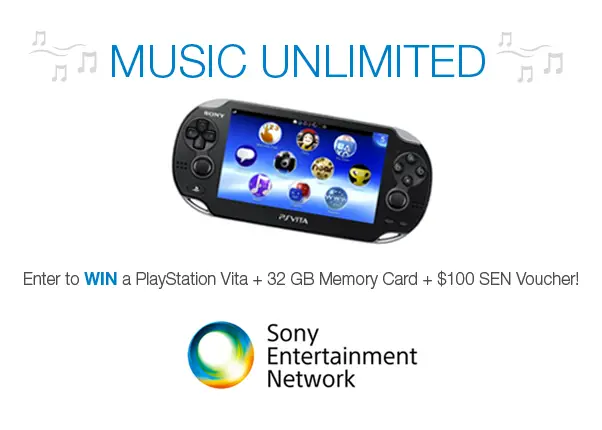 The Sony PlayStation Vita has been out since February, but it's still the one of the best mobile gaming options out there for serious and casual gamers alike. The device is a great mobile option for a number of reasons, not the least of which are media consumption and of course fantastic on-the-go gaming. It's a gadget, above all else, complete with cool buttons and a 5-inch 960 x 544 touchscreen on the front, dual touchpads on the back, and a vast software ecosystem.
And thanks to Sony Entertainment Network's VIP for All campaign, you could win a WiFi-equipped PS Vita handheld console, a 32GB memory card, and a $100 SEN voucher that can be used for any of its services: Music Unlimited, Video Unlimited, and PlayStation Plus.
Music Unlimited is a subscription-based service that allows you to stream unlimited music from Sony's enormous catalog of 18 million songs across a number of different devices.
Video Unlimited gives subscribers access to thousands of blockbuster movies, classics, and TV shows in standard and high definition, not to mention 3D.
PlayStation Plus is Sony's premium game membership that offers you an Instant Game Collection comprising blockbuster games that are available to play on PlayStation devices. Subscription rates range from $17.99 for three months to $49.99 per year, and starting this month, PS Vita owners will be able to access the Instant Game Collection through their PlayStation Plus subscription at no extra cost!
With 18 million songs from a variety of great artists available to choose from, you'll never run out of awesome music to listen to. But if you could listen to only one artist on Sony's Music Unlimited for 14 days straight, who would it be?
Answer this question below, respond on Facebook, or tweet your answer with the hashtag #SENVIP and you'll be automatically entered to win the Sony Entertainment Network prize package in two weeks' time on December 3.
Sponsored post by Sony Entertainment Network