Accessory review: Apple Lightning to VGA adapter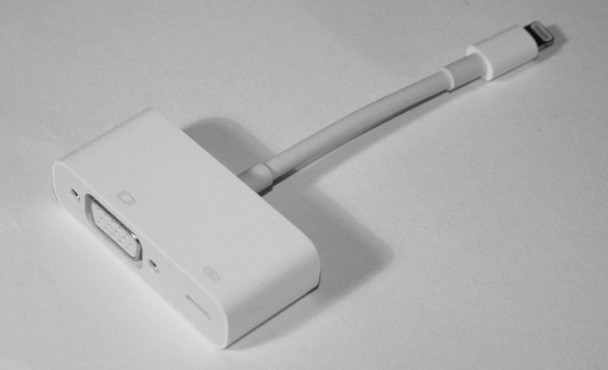 After switching to the iPad mini and getting rid of my iPad 2, there was one accessory I knew I had to replace, no matter how horribly overpriced it is: the VGA adapter. I need to be able to connect my iPad to a projector for teaching, so even though it's a 379 NOK (~$67, US MSRP is $49) accessory here in Norway, I need it. This new Lightning compatible adapter is a lot more expensive than the old VGA adapter, but does that cost translate to a better adapter?
Design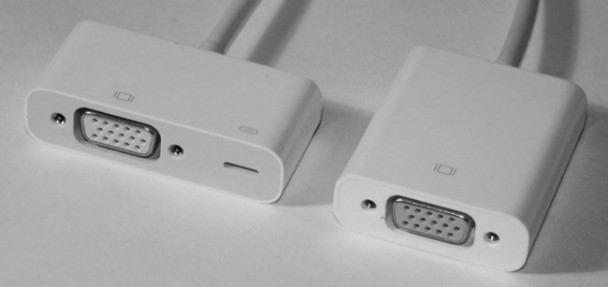 The new version of the adapter is actually a bit different from the old one, the Lightning connector aside. First off, it now has a female Lightning connector on it, allowing you to connect a charger to it. Despite the fewer pins on Lightning inherently making it easier to pass through full functionality, it does appear that the female Lightning connector on the adapter only supports charging, as a review on the Apple Store mentions that you can't keep it connected to a computer at the same time. This means you can't connect multiple accessories in series. Still, it's nice to finally be able to charge the device while using the adapter. The HDMI version of the adapter has had it since the 30 pin version, and now the VGA adapter has it too.
The second major difference is the cable length. The cable between the VGA end and the Lightning end isn't even half the length it was on the old 30 pin version of this adapter, which is beyond stupid. VGA connectors are huge, heavy, and connected to thick, heavy cables. With 3/4 devices currently able to use this adapter being small and light (iPhone, iPod touch, iPad mini) and only one (iPad 4) being heavy enough to actually counter the weight of a VGA cable, the smaller ones are going to be thrown about like rag dolls as soon as the VGA cable moves. I'm already thinking up DIY accessories I can make to fix that problem, something I really shouldn't have to do with an adapter this expensive.
Functionality
It's a VGA adapter, so it gives you the ability to connect your Lightning-enabled devices to any screen or projector that uses VGA. The old adapter worked fine everywhere I tried it, adapting the resolution as needed, and the new one seems to be identical in this respect. VGA is an analog technology, and the Lightning connector is digital, so I suspect that the difference in price comes from having to make that conversion in the adapter. Then again, the old adapter might have worked the same way- I don't actually know.
Despite being analog, you can get up to 1080p out from this adapter, and since it only works with the new Lightning-based devices, there's no longer a generational split between 720p and 1080p capable devices, like there was with the old adapter. Do note that the adapter doesn't support HDCP, meaning that protected content (like what you buy from iTunes) won't play through it.
The price of this new adapter does however bring up a very important question if you also need the HDMI adapter: Should you buy it, or an active HDMI to VGA convertor? With HDMI being digital and VGA being analog you need more than a physical converter to go from one to the other, but it is possible. An example of such a device is the Kanex ATV Pro, which Apple sells for $60 in the same store where it charges $50 for this adapter. For $10 more than Apple's adapter, the Kanex ATV Pro will convert any HDMI signal to VGA, it supports HDCP, and it won't be tied down to one device  You then need the HDMI adapter as well, though, as the Kanex on its own won't be of any use with a Lightning-equipped device. However, if you need both the HDMI and the VGA adapter, or you already have an Apple TV or other HDMI-only equipment, the combination Lightning to HDMI + Kanex ATV Pro (or similar device) will likely be the better deal.
Conclusion
This adapter is one reason I dreaded getting rid of my iPad 2. It's incredibly overpriced, and should frankly be provided for free to anyone who has the old one. It's poorly designed, with a cable that brings up the need for a counterweight-type modification to make it safe to use in practice, and a pass through Lightning connector that only charges the device. The added female connector aside, the old adapter was actually better.
Still, despite all that, it's unfortunately the cheapest option if you're sitting there with a Lightning-equipped device and need VGA. As much as I hate pretty much everything about the actual adapter, I'm also glad it actually exists, and that even with an all-digital connector, Apple still recognizes the need to support this old standard. Apple might be a capitalistic pig, but at least it understands the need to support the equipment actually available in business and education. If you're in a similar situation, you can get this adapter directly from Apple for $49 (in the US).