Accessory review: Newer Technology NuTouch Gloves
After unseasonably warm temperatures in October and November across much of the nation, December finally reminded most of us what cold weather feels like. We've had a couple winter storms drop tons of snow in various places, while here in central Illinois, we've got a layer of ice on the ground that just won't seem to go away.
As someone who loves his dogs just as much as his gadgets, winter walks have long been a source of frustration: either I suffer from cold hands so I can use my phone, or I wear gloves that I'm constantly having to take off in order to send that text message, answer that call, or skip to the next track. Luckily, glove manufacturers have started to notice the plight of the gadget geek during the winter months, but many solutions are less than ideal: there are fingerless gloves (I guess our fingertips are just going to have to suffer), and there are gloves with conductive wires in one or two fingertips (that's a bit closer to ideal, but not quite there yet).
Enter Newer Technology NuTouch Gloves. Made from a soft cotton mix (52% cotton, 24% rayon, 14% conductive fiber, and 10% spandex, to be precise), the NuTouch Gloves feature a special conductive fiber that is woven into all ten fingertips – this allows you to use all touch screen devices with the gloves on with all fingers. That also means that it's a heck of a lot easier to type on full-sized touch screen keyboards, too.
At first glance, it's not really possible to tell that these gloves are designed with touch screens in mind; you don't really see any specs of those conductive microfibers that competitors have, which often end up looking like glitter. These look just like any other pair of cotton gloves that you could pick up in a store – and they're unisex, so men and women can both enjoy them without worrying what someone else might think. I should also note that, in person, the fingertips aren't a noticeably different color, unlike the press images above.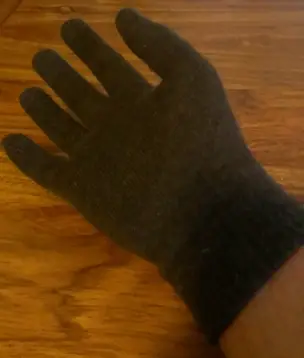 I am also surprised by how warm they are. For being such thin gloves, my hands never felt obscenely cold, even though I used them while walking the dogs in below-freezing temperatures. They're also very comfortable in general – in fact, they're almost a perfect fit. They're also built to stretch, so even if you don't get quite the right size, chances are they'll still be comfortable, as long as they're somewhere in the ballpark. Still, to be on the safe side, I'd rather you overestimate and order a size larger if you're unsure; otherwise, if you stretch these out too much, they might end up not being as warm as they are for me.
Using my HTC EVO 4G LTE with these gloves on is a pleasure. I'm able to quickly unlock my phone, accurately type text messages, and even use the physical touch-enabled buttons on the bottom of the phone. The same goes for my ASUS Nexus 7, and every other touch screen device I've tried with these gloves. I'm able to do everything in these gloves that I can with them off, with no slow down or decrease in productivity or functionality. That's pretty darn nice.
My only worry is that, after only several days of using these, I'm noticing a weakness developing between my thumb and index finger. I'm worried that a hole could start developing there (in fact, it might have already started to appear). And since I ordered the largest size available, it's not like I made a mistake by ordering a size too small.
In any case, the hole isn't there yet, and for the price, I'm fairly happy with these. They come in four sizes: small (6.75-inches), medium (7.5-inches), large (8-inches), and  extra large (8.75-inches). While normally $19.99, they're currently on sale for only $9, which is more than 50% off. For that price, I'd highly recommend picking up a pair of these, especially if you're in a cold climate and don't want to sacrifice the usability of all your touch screen gadgets.
I'm knocking off a half a star, to give this a 4.5/5 rating, simply because I'm worried about that developing hole. However, if you have smaller hands, this shouldn't be a problem, and this otherwise deserves a 5/5 rating, if only because of the great value Newer Technology offers at this price point.
Newer Technology NuTouch Gloves are available for $9.00 from OWC.