ASUS to begin selling official Nexus 7 dock this month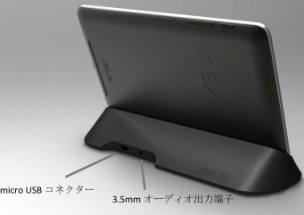 Other than a few covers of varying colors and extra chargers, official ASUS Nexus 7 accessories have been fairly non-existent. That all changes now, however, as the ASUS Japan website has listed an official Nexus docking station that will go on sale in "early December." The price is listed as 3,480 yen, which is just over $42 USD.
It looks like the official dock can only be used in landscape mode, which is an interesting decision, since Google and ASUS seem to have emphasized use of the tablet in portrait mode. It will obviously include a microUSB port for charging, along with a 3.5mm headphone jack for external speakers. It does not appear that it will include HDMI out or any other connectivity options, however.
Still, it's nice to see that the almost half-year-old tablet is finally getting a somewhat useful accessory, and not just another cover. Hopefully, it will go on sale soon in the US Play Store, as well, preferably for under $40. And since I've been looking for a dock myself, the timing couldn't have been more perfect.
Will you be picking one of these up for yourself, as well?
[
ASUS
via
Android Community
]