First Windows Phone 8 update starts showing up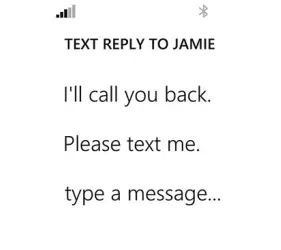 And just like that, Microsoft has released the first over-the-air (OTA) update for Windows Phone 8, bringing with it numerous improvements and bug fixes, as well as a few nice features.
Codenamed "Portico," the update (build 10211) is the first one that doesn't require the use of a PC and the Zune software client, which Windows Phone 7.x relies on. Microsoft also managed to deliver this update much faster than in years past, less than a month after the new OS launched. Portico has started rolling out to the international version of the Windows Phone 8X by HTC, but it's expected to be made widely available shortly.
Most of the changes are still being uncovered, but the biggest one so far is the addition of "text reply," allowing you to respond to an incoming call with a pre-set text message. The OS comes with two by default ("I'll call you back" and "Please text me"), but users can also program in an additional two custom messages. If none of these fit the situation, you can always manually enter a response too.
Other features include the ability to compose and save drafts of SMS messages, a new "select all" option for texts (like in other areas of the phone), and a fix which keeps WiFi on when the display is turned off.
While none of these features are new to Windows Phone, they're certainly nice to have. More importantly, Portico proves that Microsoft can finally roll out Windows Phone 8 updates at a fairly rapid pace. We'll keep you updated if anything else is uncovered.
[
WPCentral
]