Google extends free Gmail calling through 2013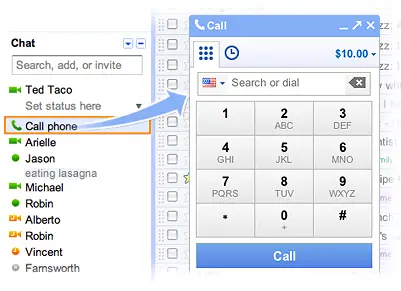 Google has extended free Gmail calling in the US and Canada, to US and Canadian numbers, through 2013. There's no word yet on whether or not Google has any plans on extending the service after this time period, but Google has been doing this each year since the service first launched back in 2010.
Although the service is intended for use in the Gmail web interface, in conjunction with Google Voice, free Gmail calling also benefits lots of other users, as well. For example:
GrooVe IP connects to Gmail and Google Voice through an Android app, allowing users to have free VOIP calling from any Android phone or tablet. It's a great way to make your WiFi-only Android device into a WiFi-calling device – or you can use it as a back up when your cell signal is low, but you have a good WiFi connection.
If you use the Chrome web browser, or you have a Chrome OS device, installing Chat for Google allows you to make and receive calls with your Google Voice number, even when you're not signed into Gmail.
Sprint customers can also integrate their Sprint accounts with Google Voice, which means that Gmail calls will appear to come from their cell phones.
You can add a phone call to a Google+ hangout, so your grandma who refuses to buy a computer can still talk to the whole family.
Kudos to Google for continuing this program – and let's just hope that it continues on indefinitely.
[
Google
]