Hands on with the Sprint Airave 2.5 wireless in home signal booster [updated]
If you've been living in a basement, you might have heard of the Sprint Airave 2.5 in-home signal booster, because you probably have nearly no cell reception. The Airave is basically a portable Sprint tower that works by using your home's internet connection and, presumably, a point to point data connection to the nearest Sprint tower to broadcast a 3G signal to up to six CDMA devices in up to a 5000-square-feet range.
Living right next to a Sprint cell tower, you wouldn't think that I'd have much of an issue. Indeed, I get full signal, but I miss calls left and right and have next to no 3G data speeds. Since receiving phone calls is actually something I require, and GrooveIP and my voicemail have been informing me I'm missing roughly a third of my calls, I decided to see if Airave could do anything for me.
Now, I also have two locations I work at that have about a ton of metal between me and the nearest window, so this is primarily why I wanted to try this, but it worked the same at those locations as it did my house.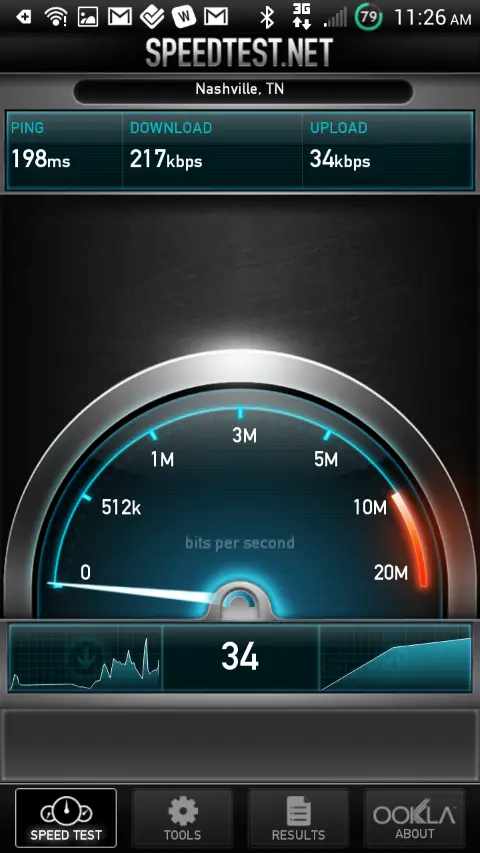 First off, this does not appear to be a thing you can just take and pop in to any location you're going. The Airave requires a GPS lock, then does some sort of provisioning with the nearest tower, and finally starts broadcasting a great 3G signal even if you're in a basement. There's a GPS antennae extender that promptly turns into a tangle of wire if you move it from place to place, but luckily for me the Airave worked without any issues at all the locations I've tried it without requiring the long GPS wire attached.
The longest time it took to grab a location and provision was about thirty minutes, and the shortest time was about four. Unfortunately, the place where it takes the longest is also the place where I need it the most, so it's still an issue of me walking in and plugging it in and popping open GrooveIP until such time as it gets the location lock.
I tried calling my phone over and over again from a landline while near the Airave, and every call came through in a ring or two. I also never had what I experienced on regular towers of picking up and one person not being able to hear the other. Before the Airave, it was about one out of five calls missed, and about the same for mute calls.
When the Airave is on and you're connected, you get three beeps at the beginning of each call to let you know you're connected. The audio also seems to have a tinnish background sound, but the quality is better than low signal quality. It sounds like a different vocal codec, and if feels like there's a little less lag. I'm assuming this varies from ISP to ISP.
Another thing you'll notice is that some of your contacts have to be stored strangely, i.e. +16155555555 may fail where 615555555 might work on the Airave, but both work on the tower. You'll get random messages like, "The number or code you have dialed is incorrect," which is short for "Check how it's dialing this number."
The Airave picks up and drops off almost seamlessly with the nearby towers. You can walk out of the range and you'll hear yourself moved to another tower, the background sound will change slightly, and you'll be able to move on. Unfortunately, this does not work the same from Airave to Airave, so if you're in a large office building you won't be able to switch between the two. You can go Airave to cell tower and back to a different Airave, but if there's no signal in between those two, the call will drop.
Right now, my Airave is sitting at a friend's basement apartment while she waits for hers to show. The speed test pictures show the before and after speed tests standing in the same location. The one-bar picture is without the Airave, the full-bar is with.
Now, the speeds are determined by what your internet is capable of pushing or pulling, but you can see they're pretty decent.
One of the unadvertised benefits for people with next to no signal is significant battery life improvement. If you're not having to punch through a wall to get your signal out to the nearest tower, your phone lasts longer, and charges significantly faster.
The Airave is available in many instances for free from Sprint, with the only cost to you being an FCC device tax tacked onto your bill. However, if you don't use the Airave for months and don't return it, Sprint will charge you a device replacement fee of $140. If you don't plan to use the Airave, they'll ship you a box to ship it back in for free, though.
The Airave has turned a crappy work signal and a terrible home tower into something I can live with while I await the the upgrades to both towers that are in the works. It's also given a friend of mine the ability to make calls from her house to Sprint, so she can get mine back to me.
It's a pretty neat product if you're having serious issues with signal, which is what I was having in two out of three places I regularly am.
Be prepared to list addresses where you're going to use it, what ISP you're using at each location, and whether you have permission from the network administrator to use the device in the building.
[
Sprint
]
Update: this was visited again after four and a half months of use.