Microsoft Surface tip: Change scrolling direction and other trackpad settings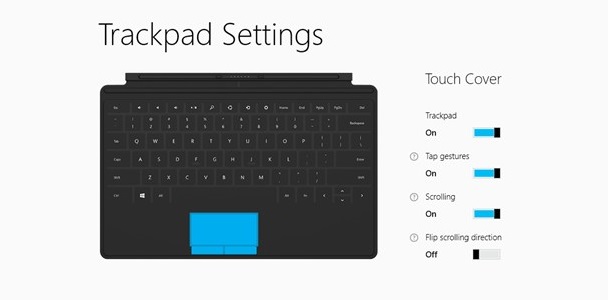 The trackpad on the Touch and Type Covers for the Microsoft Surface with Windows RT implements the increasingly popular reverse scrolling direction, which is nice for some people and extremely irritating for others. Thankfully, those in the latter group don't have to live with it. While I have, for the most part, gotten used to scrolling in the opposite direction, Microsoft actually provides a way to change this with the Trackpad Settings app.
Compatible only with the Surface, the Trackpad Settings app allows you to flip the scrolling direction, as well as enable or disable scrolling, tap gestures, or even the entire trackpad in general. The app is limited to only these four options, but many people are sure to find it invaluable.
Some people might experience a minor issue where the app cannot detect the Touch/Type Cover, but there's a relatively simple fix:
Make sure you have the latest updates: From the Start screen, type Update, tap Settings, then tap Check for updates.
From the Start screen, type Devices, tap Settings, then tap Devices and Printers. Then tap Refresh three times (circular arrow next to Search box). Try using the app again.
Download: Windows Store