Review: Samsung Chromebook on ARM
It's the day after Christmas, and all that cash that was stuffed in your stocking is now burning a hole in your pocket. As a gadget lover, you know you've got to spend your holiday loot on an awesome piece of technology, but you're just not quite sure what you want yet. Luckily, even though this review was a long time coming, and probably should have been published weeks ago, the timing happens to also be perfect: might I suggest you spend $250 of your Christmas money on the new Samsung Chromebook on ARM?
Actually, it's probably a good thing that I waited so long before publishing this review. I've had this laptop for more than a month, and in that time it's been my main computer. I've used it for almost everything, including writing for this site, editing images, listening to music, planning the courses I'm teaching next semester, managing multiple email accounts (six to be precise), and more – and not once did I miss Microsoft Word, Adobe Photoshop, Apple iTunes, or Microsoft Outlook. Quite literally, I've been able to do everything on this cloud-based system that I was previously doing on a Windows machine, with few if any sacrifices.
Granted, I already lived most of my digital life in the cloud before getting this Chromebook, so it became quite clear very quickly that this machine was right for me. But is it right for you, too? Keep reading to find out.
Quick Specs
The Samsung Chromebook on ARM has an 11.6-inch 1366×768 LCD matte display and a 1.7 GHz Samsung Exynos 5 Dual Processor (that's the same processor in Samsung's latest smartphones and tablets). It's got 2GB of DDR3 RAM and a 16GB SSD for local storage, although it also comes with two years of 100GB Google Drive storage that's integrated natively into the Chromebook's file explorer. Boasting over 6.5 hours of battery life (it's got a 4080mAh, two cell, 30Wh non-removable battery), the Chromebook also comes with a VGA 0.3MP front-facing camera, two USB ports (one is USB 3.0, and the other is USB 2.0), an HDMI port, a full-sized SD card slot, and a 3.5mm microphone/headphone combo jack. Two speakers are available on the bottom of the laptop.
The Samsung Chromebook is compatible with Bluetooth 3.0 and dual band WiFi 802.11 a/b/g/n. The 3G model is also compatible with Verizon's CDMA network, offering 100MB/month for free for two years with the option to purchase additional data. The laptop itself is only 0.7-inches thick and weights 2.42 pounds. Obviously, it runs the latest version of Chrome OS.
Packaging
If you really care that much about the box in which the Samsung Chromebook arrives, then you can watch my embarrassingly bad unboxing video from a few weeks ago. (The reason it's so bad is that I had just gone through a major gadget purge, and the only video recording device I had on me at the time was my HTC EVO 4G LTE. Basically, I was trying to do everything one-handed, and it just ended up being a hot mess.)
Anyway, I will say this: it looks like almost every other laptop box I've seen. It's got Samsung and Chrome branding on the front, with several pictures of the beauty that is within the box. The machine is also packaged well, so it will probably survive whatever minor abuse the UPS or FedEx delivery person might throw its way, in case you aren't able to pick one of these up at a local brick and mortar store. The only accessory it comes with is the power brick and cord, so those of you hoping for an included Ethernet adapter might be a little disappointed.
The laptop was probably about 80% charged when I first plugged it in, so the initial charge time was relatively short – a nice bonus for the impatient gadget geek.
Hardware
Let's get this out of the way first. Is the build quality on this $249 laptop the same as a $1000+ Macbook Air, to which this is often compared? Hell no. But is this the best build quality on any laptop I've seen in the sub-$350 range? Absolutely yes.
This is definitely a solid machine. It's incredibly thin and lightweight, and while the all-plastic body doesn't feel as nice as an aluminum uni-body Macbook, it certainly looks just as nice, especially from a distance. One of the first things a friend of mine said when visiting me in my home a few weeks ago was this: "Wow, that looks like a really awesome Samsung laptop!"
Other reviewers have said that the Samsung Chromebook is 80% of the Macbook experience at 20% of the cost, and that it's $1000 worth of design made with $100 worth of materials. While clever and catchy, these assessments are also spot on. It is the most attractive Chromebook I've seen so far (especially better-looking than the new Acer Chromebook), and you can just tell that a lot of thought went into the design.
I will admit that it does creak very annoyingly every now and then, especially when opening and closing the lid. Also, when I'm using it on my lap, instead of on a hard surface, I've noticed that the plastic to the left and right of the trackpad can creak when resting my palms on it. The creaking is not enough to make me want to return it, and I can forgive it given the price of the laptop, but it is definitely worth noting.
However, at the same time, the fanless design paired with the non-moving internal SSD make for completely silent operation, which is incredibly nice, and simply not available on most other laptops in this price range. It also never gets hot – it can get quite warm under the keyboard, especially if doing lots of processor-intensive activities like watching HD video, but it has never gotten warm enough to be concerning.
I'm also quite pleased at all of the connectivity options. Other laptops at this price point just simply don't offer USB 3.0 and Bluetooth 3.0 and a full-sized HDMI port. It's also got a second USB 2.0 port, a full-sized SD card slot, dual band WiFi, and optional 3G. And all of this is crammed into a package that's extremely thin and lightweight, and stylish enough that you won't be embarrassed to bring with you to the coffee shop.
For the price, you get a lot – I just wish that the speakers weren't on the bottom of the laptop, thus muffling the sound when actually using it on my lap.
Screen
This is one of those areas where you have to accept some compromise due to the cost of the device. The screen on the Samsung Chromebook is certainly usable, but it's not the best. At 11.6-inches, its resolution is an average-but-definitely-not-noteworthy 1366×768. It's got a matte finish and LED backlight, and the brightness only goes up to 200 nits.
Some people prefer matte screens to glossy, but I have to admit that the sacrifice in clarity is noticeable, especially after burying myself in much nicer displays on my Android phone and tablet. The brightness isn't too much of a concern (it's certainly bright enough for me), but it isn't very usable outside in bright sunlight. Viewing angles are also quite poor – this is definitely designed for one-person viewing; if you gather a bunch of people around the Chromebook for a YouTube viewing party, you're bound to get a few complaints that the videos are too dark to see things clearly.
Even so, it's perfectly fine and functional for one person. I still prefer my tablet for watching videos longer than a few minutes, but honestly, I view my Chromebook more as a productivity device than an entertainment device. In other words, while I'm not blown away by the screen, I find it adequate for my personal use, and it's another sacrifice I'm willing to live with based on the low cost of entry.
Software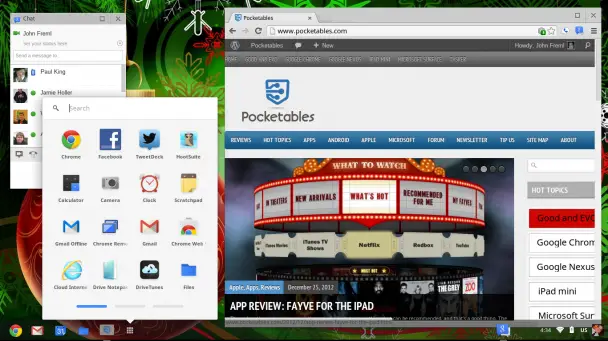 Perhaps the most controversial aspect of this laptop is the OS it runs – it's not OS X, it's not any version of Windows, and it's not even a complete Linux distro. Instead, it's Google's own Chrome OS, which is the desktop counterpart to Google's mobile OS, Android. Chrome OS is completely cloud-based, meaning native applications are scarce, and almost everything you do will be through a web browser.
The only native apps that come with the Samsung Chromebook are a file explorer, a media player, a very basic photo editor, a calculator, a camera app, and Scratchpad, which is a note-taking app that syncs automatically to Google Drive. It's not possible to install any additional native apps, either – any app you install will have to be from the Chrome Web Store. Some of the apps that are available here act simply as links to other websites, while some of them do offer true offline functionality. All of them, however, run through the Chrome web browser.
That's really not as bad as it seems, though. I've already made the transition from Microsoft Office to Google Docs, Spreadsheets, and Slides, with very little headache. All you have to do is enable offline access through the Google Drive web interface, and you'll be able to access and edit your 100 most recent files on your Chromebook, even without an internet connection. You can also make individual files available offline, as well, in case they're not part of your 100 most recent. In fact, as a college instructor who teaches in different classrooms, I find this system even more convenient than traditional Microsoft Office files that I have to email to myself over and over again or keep with me on a thumb drive – instead, I can just sign in to Google Drive online, and all of my presentations, class rosters, and planning notes are right there with me, wherever I am.
Gmail and Google Calendar also include offline accessibility, along with a growing number of other web apps, including Google Books and Amazon Kindle. If you will be away from an internet connection for a long time, you can also fill up the 16GB SSD with movies and music, or add them to an SD card that's got even more room, and watch them with the Chromebook's native media player. The fact that Chrome OS is cloud-based does not mean that it is unable to function if unconnected from the internet – and to be completely honest, my full-blown Windows 7 laptop is probably just as useless offline as my Chromebook is, since I already did so much in the cloud before even getting a Chromebook.
Web apps also don't mean you have to compromise much in the way of productivity. Pixlr Editor has quickly become my main photo editor, completely replacing its Windows-based counterpart. I listen to all my music through Google Play Music, which is really great about preserving your playlists if you're coming from iTunes. Gmail's multiple account management and filters have negated any prior need I had for Outlook on my desktop. Finally, a growing number of web apps are compatible with Google Drive, which means you can open your files with these apps directly from the Google Drive web interface, or the native file explorer in Chrome OS.
What I'm trying to say is this: if you're willing to change a few of your habits, you won't have to compromise much of anything at all. Some of you might not even have to change any of your habits, anyway, if you consider that most of what you do on your Windows or Apple machine is already in a web browser.
The only exception is gaming. Don't expect to play World of Warcraft on a Chromebook; you're restricted to much more simple web-based games. Since I'm not a gamer myself, I could care less about this, but this might be a deal breaker for a lot of you. My hope, however, is that OnLive might be cooking something up for the gamers on Chrome OS, in which case this little computer really will be able to do anything. In the meantime, there's always Chrome Remote Desktop.
I also can't neglect to mention that Chrome OS is always up to date, since updates are downloaded transparently in the background directly from Google. You won't be nagged with an annoying reminder to update almost everyday, like you are on Windows, and you don't need to worry about viruses or malware – Google takes care of all of that for you. I should also mention that Chrome OS is much more mature than it was a year ago. It's got a desktop, an app launcher, pinned shortcuts, and other visual and functional enhancements that really do make it feel like a more traditional desktop OS, while still maintaining its focus on the cloud.
Performance
Chrome OS is known for quickly booting up, and the Samsung Chromebook doesn't disappoint in this regard. Google says that it will boot up in under 10 seconds, and in my experience it is closer to around 7. Turning on from sleep mode takes under 2 seconds, and a full reboot will probably take around 12 seconds. In other words, this thing lives up to the hype.
Here's the catch, though. This is an ARM processor – the same type of processor that powers most smartphones and tablets today. Additionally, it's only got 2GB of RAM. What this means in real world performance is that if you are heavy multitasker, your machine might start to slow down a bit – and sometimes tabs will even reload.
However, I'm currently on the developer channel of Chrome OS, and I am noticing massive performance improvements. On the stable and beta builds, I saw lots more slow downs and tab reloads, but now I experience almost none at all, even if I have a bunch of tabs open and am doing lots of different work. Your experience with this will vary, though, depending on what you do on your computer and how processor-intensive your various tasks are. For me, on the dev channel, I can keep 10 or more tabs open with little to no issues.
Because your Chromebook will always run the latest version of Chrome OS, Google also promises that your machine will actually get better over time – not slower and more bogged down, like Windows machines are notorious for. So far, in my month of use, I've found this to be true. Google is actively developing this platform and optimizing it for the various devices on which it runs, so it's always getting better. It might grind to a screeching halt while playing a full HD video, streaming Pandora, editing a 100-page spreadsheet, and browsing in 15 different tabs all at the same time, but honestly, how often do you really do that?
Benchmarks
I've always said that real world performance is more important than benchmarks, but I also know that these numbers are important to a lot of you. Since Chrome OS can't run benchmark apps natively, I had to rely on some of the more common web-based benchmark tests: Peacekeeper measures HTML5 performance, while SunSpider focuses on JavaScript performance. Check out the results below.
Peacekeeper:
Sunspider:
You can compare the SunSpider results to your own machine here.
Keyboard and Trackpad
This deserves its own section, because the Samsung Chromebook really excels in these areas. The keyboard is just a joy to type on; the chiclet keys have just the right amount of give, and they are spaced out very nicely, in spite of this being such a small laptop. I've been typing on this keyboard several hours a day, almost every day since I've had it, and there was little to no adjustment period – I was able to hop right on it from my previous keyboard and type just as fast as before. It's the best keyboard on a $250 laptop, period, and it even beats out the keyboards on some $800 and $900 laptops.
The trackpad is pretty awesome, too. It's very large, supports multi-touch gestures and tap to click, and is also just a joy to use. It beats the trackpad on my partner's much more expensive ASUS laptop, it is definitely nicer than the trackpad on my Sony Vaio laptop. I'd have to say that it even rivals the trackpads found on Macbooks.
My only criticism with the trackpad is that, due to the all-plastic construction, it too can creak sometimes. Again, when I place the Chromebook in my lap instead of on a hard surface, I notice that there is a little more give under the trackpad, and that can get annoying fairly quickly. Luckily, I don't notice that often, as I don't often physically click with my trackpad – I'm more of a "tap to click" kind of guy.
Connectivity
There's not much I can say about connectivity that I haven't already said. WiFi works great, and there's a 3G option available if you want it. I'm a little disappointed that LTE connectivity wasn't also included, but I'm sure this is in the works for a future Chromebook. I really like the fact that Google does throw in 100MB/month of Verizon data for free if you buy the 3G version – that can really come in handy if you are only occasionally away from WiFi, and you happen to unexpectedly need access to an obscure document in your Google Drive that's not available offline. 100MB isn't good for much else, but it's nice in a pinch.
I have noticed that WiFi will occasionally drop, and one time I couldn't reconnect to my home WiFi network without a reboot. This wasn't a huge deal, since rebooting only takes about 12 seconds, but it was annoying nonetheless. I can't really fault the Chromebook for that, though, because I was on the dev channel when this happened – it's very likely that something in the dev channel caused the problem, since I never experienced this when running stable builds of Chrome OS.
I should also mention that, in addition to that free Google Drive storage and Verizon connectivity I've already mentioned, this Chromebook also comes with 12 free Gogo Inflight Internet passes, as well. That way you can connect in the air the same way you do on the ground at home – kudos to Google for including that.
Camera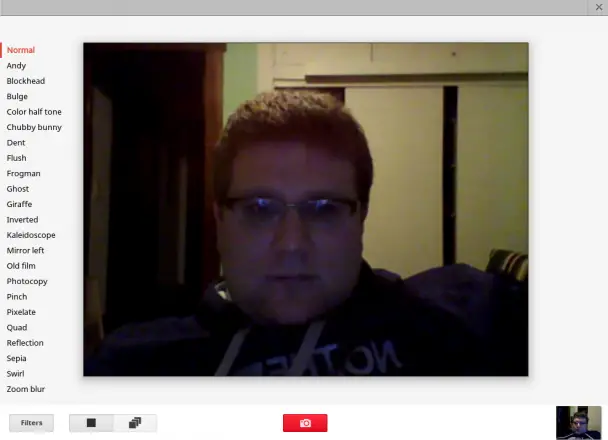 The camera is one of those things that Google and Samsung included just so they could say it's there. Other than that, it is definitely not something to write home about (how could it be when it's only 0.3MP?). It works fine for short video calls, but it's a little choppy and pixelated. It does pick up enough light in dimly lit rooms, so I can't complain there.
The included camera app has 22 different filters, which is very nice, as well as a paparazzi mode that takes multiple photos back to back. It's not really revolutionary at all, but again, it's nice that they included it in the first place. At this price point, I'm not really going to complain about the quality, even though it could be much, much better.
Battery Life
In my month-long experience, I've found that the official estimate of 6.5 hours of battery life is spot on. That's usually what I get myself, although it is sometimes much better than that (I've been known to get almost eight hours once). Of course, battery life will go down if you're constantly streaming movies and music, but with normal web browsing, word processing, and email use – in other words, what I'm doing most of the time – the battery holds up fairly well. For most people, it will last an entire work day, and maybe even then some if you're lucky.
My only criticism about the 4080mAh, two cell, 30Wh battery is that it's non-removable. Again, I don't really find that to be much of an issue at all; I understand that it has to be non-removable to preserve this very nice form factor, and I also was not planning on buying a replacement battery for this thing. If you want a nice-looking machine that just works right out of the box, then this is for you – but if you like to replace batteries, upgrade RAM, etc., then keep looking (perhaps at the new Acer Chromebook).
Conclusion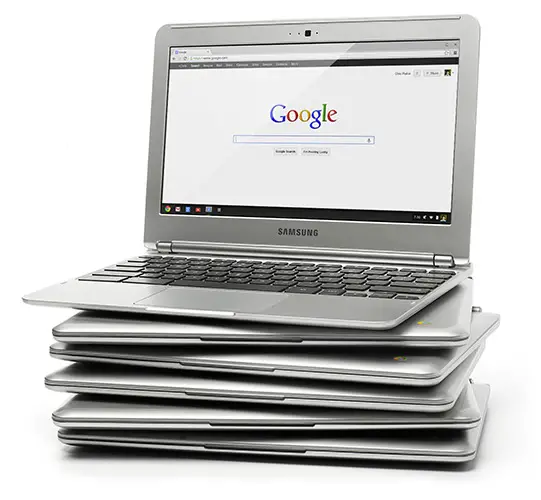 I'm going to go out on a limb here and say that this could be a primary computer for probably 75% of the population, even though Google tends to market Chromebooks as secondary machines. Most people who own computers don't do anything other than extremely light word processing and web browsing, anyway, so why spend $1000 when you can spend $250 for almost the exact same computing experience?
If you're a gamer or video editor, you may want to keep looking – but even so, this might still make a great secondary machine. I'd say that probably anyone could benefit from owning a Chromebook – I certainly have. Whether you'd use it as a primary or secondary machine really depends on what you do on your computer throughout the day, but as cloud computing becomes more and more the norm, you'll find that you have to make fewer and fewer sacrifices in order to live your digital life completely in the cloud.
I think that Google's Chrome OS will be seen as visionary five years from now, and since the cost of ownership has gone down, Chromebooks are becoming much more mainstream. This one is still at the top of Amazon's best seller list, after all, and brick and mortar stores keep selling out of these as quickly as they come in. Even the Google Play Store is still sold out, and the Chromebook has been released for several months now.
I'm sure you can tell I love my Chromebook, and I encourage you to try it out to see if you could love it, too – if not, just return it. But I can definitely say it's worthy of any extra Christmas cash you have laying around.