Smart Actions app ported to rooted HTC EVO 3D and others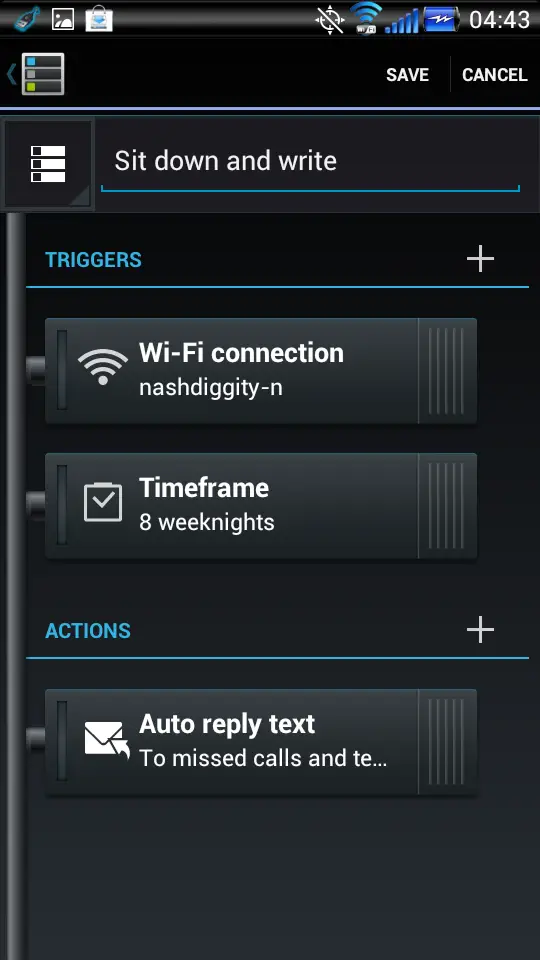 Smart Actions is a Motorola application that Joekp ported over to the HTC EVO 3D (and theoretically other rooted devices), which allows you to automate many common tasks by setting a few conditional triggers and defining some actions.
Want to turn off your ringer at night when you're home and should be asleep, but not when you're out partying? Set the triggers for the hour you normally sleep and when the phone is charging to set the phone to silent. Want to define an hour when you do not take calls if you're at your house, but inform people you'll get back in touch with them? Define an hour range and the name of your home WiFi, turn off the ringer, and respond back to calls automatically with a text message.
It's a pretty useful application, but requires some finagling to get it to install. The developer wrote a pretty sweet little install batch file that includes an ADB application and a script to install all the files to their proper location, but it just doesn't quite work right for me. If I can read the menu, then the batch file doesn't run ADB, and if I can't see the menu, then it does – basically, if you get an error that "FINDSTR: cannot open…" simply press the zero key, and it will install to your phone.
It's just a long batch file, so you can execute the commands yourself if you're paranoid of running an ADB distributed by someone you don't know. The commands are pretty simple and just involve pushing some files and setting some permissions.
The port requires ICS, and for you to not update to the newest Play Store version of the application. That supposedly will break it. If you're running Jelly Bean, you can install, and if it doesn't work, go ahead and update to the newest version.
If you need to uninstall it and can't see the menu, just press the number one from the installer batch file and your phone will remove a few files and reboot.
As this messes with the /system folders, you might want to consider making a nandroid backup before installing, just in case anything goes awry.
[
xda-developers
]