Why are there no good iPad compatible smartpens?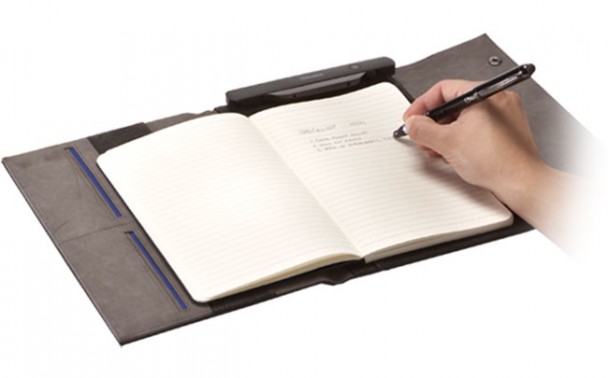 Smartpens have been around for years, but you may not have heard of them. Essentially, we're talking a large actual pen that records what you're writing as you're writing it on paper, thus bridging the gap between paper and digital in a rather unique way. Several companies have been and are doing these types of pens, with LiveScribe being perhaps the most famous. In general these pens are nice, and it's one of those things that would be a lot more popular if people knew it existed.  However, despite some of these products now getting some rudimentary mobile device support, I've yet to see anything that made me jump out of my chair to get one.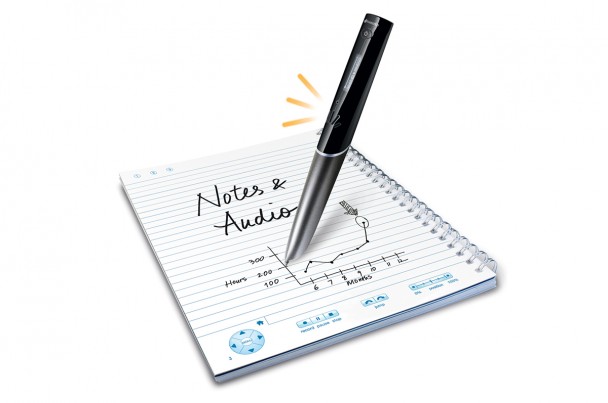 Like I said, there are some basic mobile device support out there. The new LiveScribe Sky pen is WiFi-enabled, and automatically sends notes to Evernote. Evernote is then accessible on devices like the iPad, giving you a sort of sync system right there. The problem is that it's far from a direct-to-device system, and I'm seriously concerned about how easy it is to set up the pen to connect to networks with secondary authentication, which is used both at the school I study and the school I teach. If this thing doesn't have a WiFi connection, it's useless, even if your iPad is connected- and that's what I don't like.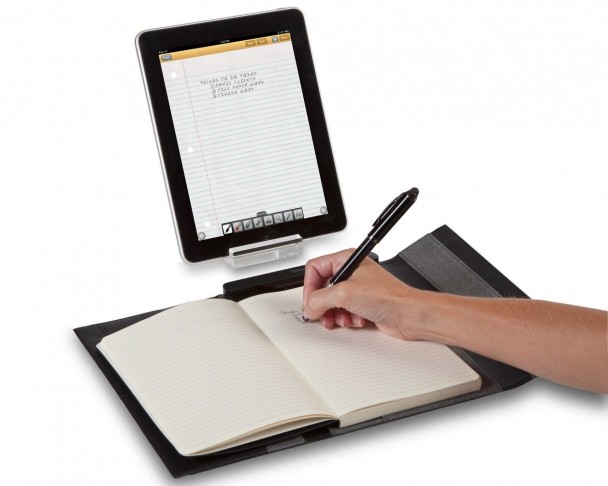 Then there's the Targus iNotebook, which is basically a dedicated iPad accessory. It connects via Bluetooth, but it lives and dies by the iNotebook app. From what I can gather, that app is the only way to get notes off the accessory, and the app seems a bit limited. There have been several special iPad styli/pens out there in the last year, like TenOneDesign's Pogo Connect, and the norm with such products has been to reach out to developers of the most popular existing apps for drawing and note taking, and get support added to those apps. For instance, Goodnotes was my favorite note taking apps before iPen support was added, which meant that I didn't have to change apps when I got the iPen. Pogo Connect support is also coming in Goodnotes, which makes the Connect just the more appealing. Targus, on the other hand, decided to go the proprietary route, with its own app that has definitely not been around for years, and that's not a good thing. Apps are living things, they evolve over time, and improve based on user feedback. I'm not paying $180 for an accessory that only works with a thrown-together proprietary app when it could have been made to work with the great apps that are already out there. Don't try to reinvent the wheel and then make it square, Targus, you just end up with people not wanting your car.
The most interesting smartpen I've seen so far is unfortunately also the least iPad compatible of them all. Wacom's Inkling has the benefit of being made by the company that's king of digitizer pens, and it's the smartpen I've seen that looks the most practical. It's not overly thick, doesn't rely on a tiny LCD screen and special paper, and everything you need to use it fits inside a special case that docks each component properly. Wacom quality is frankly a thing, and this seems to have it. Unfortunately the Inkling seems to suffer from being a Wacom product as well as gain from it, as it's solely designed for sketching, not note taking. As such, reviews report some issues with missed strokes when taking notes, but not while sketching, and the way you get anything off the receiver truly shows that this was not intended to be a mobile note taking tool. You need to connect the receiver to a computer to get anything off it, so there's no way to transfer anything to an iPad directly. A Bluetooth version of this would rock, as long as it isn't locked to some weird proprietary app.
What I'd really want is something that's a combination of a few of these. I think the iNotebook has the basic system right, but suffers from being a product from a company that has no experience with such products. LiveScribe and Wacom's offerings show more experience with the product type, but also show some rather narrow minded thinking. The Sky is just a more advanced version of previous smart pens, and has mobile device support as a happy accident more than anything else. The Inkling is for sketching, and it doesn't seem to have occurred to Wacom that pens work for anything else.
My ideal setup would be an iPad mini, something like the Booqpad to hold it and a notepad, and then something like the Inkling with the iNotebook's connection system and integration with apps like Goodnotes to go with it. All the technology necessary is out there, you just need someone who can put it together properly, instead of splitting it between different companies who each screw up in their own unique way.