Accessory review: Kidigi desktop sync and charge cradle for ASUS Nexus 7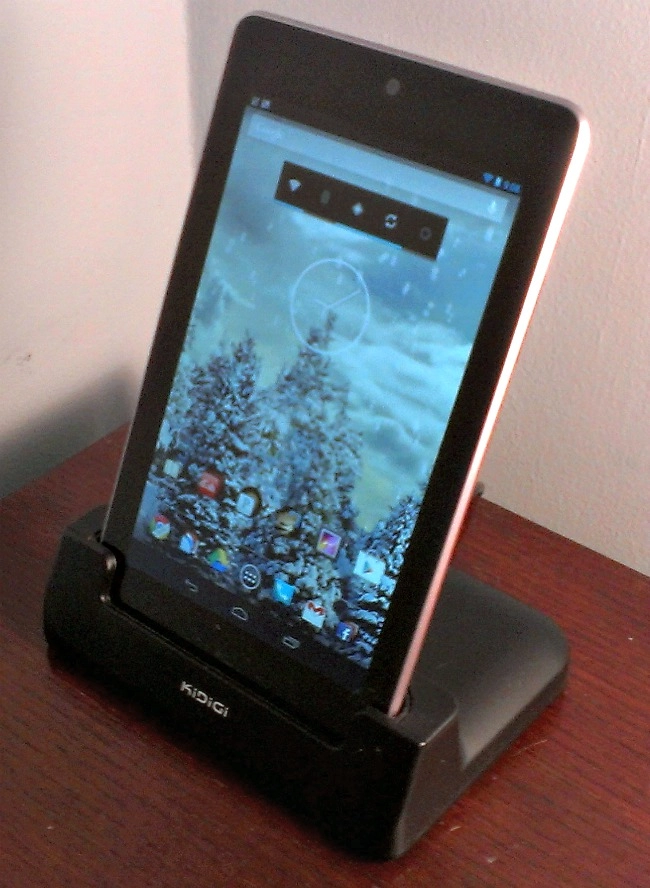 As many people keep waiting (and waiting, and waiting) for the official ASUS Nexus 7 dock to finally go on sale, I've already had the pleasure of using a Nexus 7 dock for quite a while now. Granted, it's not the same design as the official one, and it doesn't quite have all of the same bells and whistles as the official one, but it works great for me – and it's $13 cheaper.
The Kidigi desktop sync and charge cradle for the Nexus 7 is a simple dock that keeps your Nexus 7 charged, synced, and ready to go. It features a "case compatible" design, so you can use the dock even when your tablet is in a case – simply remove the small, plastic insert from the dock, and you'll be able to dock it like normal. (The official Sprint car dock for my HTC EVO 4G LTE works the same way – it's a great design, as long as you don't lose the plastic insert!) Of course, there's no way to tell whether or not your particular case will be compatible with this dock until you actually try it yourself; I haven't been able to find a list of compatible cases myself. For the price, though, this is a gamble I'd be willing to take.
The cradle only works in portrait mode, because it charges and syncs the device using a microUSB connector inside the dock, instead of the Nexus 7's pogo pins – since the microUSB port on the Nexus 7 is located at the bottom of the tablet, portrait mode is the only option. However, this isn't a huge problem for me at all, but for others this might be a deal breaker.
Also, because it uses the tablet's microUSB port for charging instead of pogo pins, the dock does not include audio out or any other multimedia accessories. Simply put, it holds your Nexus 7 tightly and securely, keeping it charged in the process – and that's it.
And for me, that's perfectly acceptable. I personally have this dock on my nightstand, next to my bed, and it functions perfectly. I dock my Nexus 7 every night as I sleep, and take it with me in the morning when I get up. I don't need any fancy, extra features – I want it to keep my Nexus 7 charged, and that's just what it does. Also, because it holds my tablet so tightly, I can still use it while it's docked; this is another bonus.
Rubber grips on the bottom of the dock keep it from sliding around on a flat surface, and as far as docks go, it certainly isn't ugly. The Nexus 7 glides into and out of the cradle with ease, and while it isn't the fanciest cradle out there, I couldn't be happier. If there are certain features in a dock that you know you want, this may or may not be the dock for you – but in any case, it works as advertised, it gets the job done, and its sturdy enough that I expect it will last for the entirety of my Nexus 7's lifetime.
The Kidigi desktop sync and charge cradle for the ASUS Nexus 7, can be purchased from Mobile Fun for $26.99. Mobile Fun also carries a variety of Nexus 7 cases and other accessories.