App review: CloudHQ syncs your cloud from the cloud, but at a price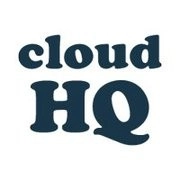 If you're anything like me, you've got a lot of cloud storage spread out across multiple cloud services like Dropbox, Google Drive, SugarSync, and Microsoft SkyDrive. And while I've already migrated most of my digital life to Google Drive, I still keep the other services around and use them to store a few miscellaneous files here and there. I've also found that, while I think Google Drive is the most robust and versatile cloud storage provider of those I've mentioned, Dropbox has much better third-party app support – not to mention the fact that people I work with share files using a variety of different services, including Dropbox, SugarSync, and SkyDrive.
In other words, even though I personally prefer Google Drive, I'm still finding it difficult to completely abandon all of the other cloud storage services. Luckily, CloudHQ makes managing and syncing multiple cloud storage services incredibly simple – and you don't even have to install any extra software on your desktop, making it a perfect service to use on my Samsung Chromebook.
Here's how the service works: first, you sign up for a free trial at CloudHQ's website using your Google account, and you select the services you want to sync. In my case, I decided that I wanted to sync my Dropbox and Google Drive accounts first, although you can also select Basecamp, SugarSync, Box, Evernote, SkyDrive, and SalesForce. And just in case you ever need help along the way, there's a convenient chat box that appears on the lower, left hand side of the screen.
Next, you can choose whether you want to allow one- or two-way synchronization, whether you want to replicate deletion in both accounts, and – in the case of Google Drive – whether or not you want to convert documents into Google Docs format when uploading to Google Drive (remember that Google Docs files don't take up any storage space). You can also choose the specific folders you want to keep in sync, in case you don't want to sync your entire account across different services.
Once you have specified your preferences, your initial sync will take place. After this, cloudHQ will constantly monitor both accounts for changes in the synced folders until you tell it to stop. Therefore, editing a document in Google Drive will cause CloudHQ to almost immediately sync any changes to that same file in Dropbox, and vice versa. Adding a file to a synced folder in SugarSync will cause CloudHQ to upload the file almost immediately to the synced folder in SkyDrive, and so on.
You can monitor your synchronization progress at any time by clicking the Sychronize tab at top of the online CloudHQ console – CloudHQ provides detailed information about the number of files and amount of data that have been transferred in the last week, a list of recently synchronized files, synchronization conflicts, and currently running jobs. You can also add new sync pairs, delete old ones, and temporarily pause all synchronization.
The Browse tab allows you to browse all of your files across all linked services, all from one console. There are options to download the files, copy or move files from one service to another (i.e. from Dropbox to SkyDrive, for example), to delete files, and even to add new files.
There's even an extension available in the Chrome Web Store that gives you quick access to your synchronization console in a popup dialogue.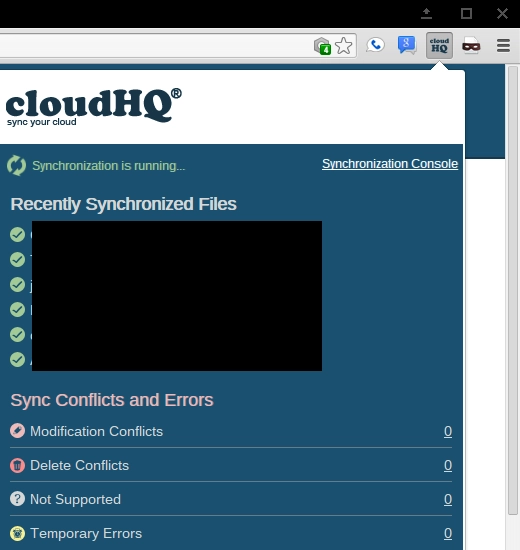 Even cooler, installing the Chrome extension gives you access to all of your CloudHQ accounts in the Google Drive web interface, in case you prefer Google's interface to CloudHQ's. You can even select files and folders to sync with CloudHQ directly from your Google Drive account.
As far as I can tell, this is the only service of its kind on the web – or at least one of the only that is compatible with so many different cloud storage services. Granted, some people might not see a need for this; for example, if you're using a standard Windows desktop computer, you could just install the individual desktop clients for each service you want to keep in sync, and manage your multiple accounts that way. However, CloudHQ offers several distinct advantages:
You can manage all your accounts from a single interface.
The bandwidth that is used to transfer files between services is all from CloudHQ – rather than downloading and uploading the same file multiple times on your computer, CloudHQ does that for you, using its own servers. The benefits of this model are very clear if you are moving multiple large files and you have slow upload speeds, or if your ISP has a data cap.
Speaking of speeds, CloudHQ moves fast. CloudHQ was able to transfer over 1GB of data from my Google Drive account to my Dropbox account, in about a quarter of the time it would have taken me to do that on my own computer.
There is no extra software to download – this is a completely web-based app.
There are also several real world scenarios where I see CloudHQ as being extremely useful:
You are sharing files with a co-worker who refuses to use anything except Dropbox.
You want a second backup of all your files in a different cloud storage service, in case the first one goes down, your primary account gets hacked, or your primary account is suspended.
You want to combine free storage from multiple providers to create your own "super cloud."
Personally, the first thing I did was sync my ebook collection in Google Drive to Dropbox, so I can subsequently use Moon+ Reader to read all of my books and sync my progress across multiple Android devices. (Since Moon+ Reader is only compatible with Dropbox, but I keep all of my files in Google Drive, I needed a way to get those files over to Dropbox quickly and easily.)
However, there is a downside, and that's the price. The premium plan, which allows for 10 sync pairs and unlimited file transfers, is a whopping $12.90/month, or $120/year (although it's currently on sale until January 15 for $9.90/month or $99/year with a lifetime lock on that price). The cheaper personal plan allows for three sync pairs and unlimited file transfers, and is only $4.90/month or $49/year – that's a bit more reasonable, but still might be a hard pill for some people to swallow.
There's a free plan, too, but that only gives you one sync pair that will transfer up to 50 files. However, if you are able to get 10 of your friends to sign up for the service, you will get the premium plan free for life.
In my experience, this is an awesome service, but its awesomeness does come with a high price. Granted, I'm sure CloudHQ has some massive bandwidth costs, since it's moving so many gigs of data around. For some people, the price is definitely worth it, but for others, the choice might not be so clear.
In any case, this is really a one-of-a-kind service, and it functions really, really well.