Chrome tip: How to access Google Chrome's hidden built-in notepad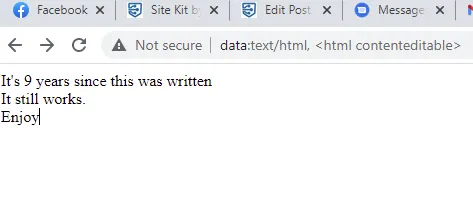 Still works in 2022
Every once in a while, I need quick access to a simple notepad on my Chromebook.  There are a ton of reasons why anyone might need one, but luckily, Chrome already has a built-in notepad ready for you to use, with no need to install other web apps or extensions – you just need to know what to do in order to access it.
To open the notepad, simply type data:text/html, <html contenteditable> in your omnibar. That may seem like a daunting task to remember each and every time you want to access the notepad, but it's actually possible to add this to your bookmarks, making it easily accessible that way. Better yet, this little trick words on Chrome OS and the Chrome web browser, including desktop and mobile versions.
Granted, this is a very basic notepad – there are not fancy features that come with other notepads, and there isn't even the ability to save what you're typing. This is purely a basic notepad to get you by on the fly, and nothing more – but it's perfect for what I usually use notepads for.
Have you got any Chrome tips of your own that you'd like to share? Let us know below!