Huawei and Sony say size matters at CES 2013
We knew it was coming for a while, but it's finally here: with the Samsung Galaxy Note II and HTC Droid DNA, the era of 5-inch+ screens on smartphones has arrived – and Huawei and Sony both took to the CES stage today to say that they realize size matters, too.
First, let's talk Sony. This smartphone manufacturer decided to display two upcoming phones on the CES floor, the Xperia Z and Xperia ZL. Sony's not allowing anyone to go hands on with either of these yet, but people are certainly gawking at these beauties, and for good reason: the Xperia Z is actually water resistant (seriously, why haven't water resistant smartphones gone mainstream long ago?), with Sony claiming it can withstand submersion up to one meter. It runs Android 4.2.1, and it also has a glass rear cover over a 2300mAh battery, NFC, a quad-core Snapdragon Pro processor, a dedicated hardware camera shutter button that control a 13MP Exmore RS sensor with "video HDR" mode, a microSD card slot, and – of course – a glorious 5-inch 1080p screen.
Is your mouth watering yet? Unfortunately, you'll have to wait a little while before you can get your hands on this – it won't start shipping until March at the earliest.
Its smaller sibling, the 4.7-inch Xperia ZL, doesn't seem to have a microSD card slot, or water resistance for that matter. We don't know much about it, but it's shaping up to be the cheaper option for consumers who want a Sony smartphone in the first half of 2013. A few years ago, we would have been amazed at the prospect of a 4.7-inch screen – now, it seems that anything less than 5 is "mid-range." Not to be outdone, however, Huawei is showing off a 6.1-inch smartphone this year at CES. The Huawei Ascend Mate has a strangely lower-resolution 720p IPS LCD display that is designed to work with gloves on. The technology behind this is called "Magic Touch," although Huawei is being somewhat tight-lipped as to how this will end up working. Also somewhat surprising is the fact that Huawei isn't including a stylus with the phone, even though its main competitor – the Galaxy Note II – does.
The Ascend Mate will run Android 4.1 on a 1.5Ghz dual-core processor. It has an 8MP rear camera and 1MP front-facing camera, all powered by a huge 4050mAh battery. RAM and storage capacity haven't been announced yet.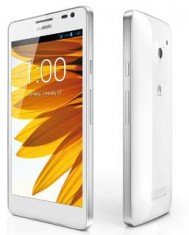 What the Ascend Mate lacks in specs, the smaller Huawei Ascend D2 will more than make up. This 5-inch beast will have a full 1080p HD display with Corning Gorilla Glass, a quad-core 1.5GHz processor, 13MP rear facing camera, 3000 mAh battery, 2GB of RAM, 32GB of internal memory, and Android 4.1.
CES has only just begun, so I'm excited to see what else will be announced. In any case, it is definitely looking like anything less than five full glorious inches is just so last year.
[Android Police: 
1
,
2
 | Androinica: 
1
,
2
 |
Android Community
 |
AndroidSPIN
]
Make sure to stop by our CES 2013 forum for hands-on impressions, giveaways, and much more!