Sprint announces 28 more 4G LTE cities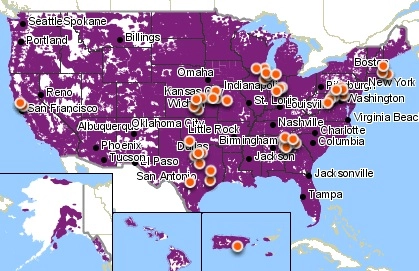 In a press release this afternoon, Sprint announced that it would be adding 28 more cities to its growing list of places where LTE coverage is available. According to Sprint, work has already begun in these areas, and should be completed in the following months:
Albany, GA
Anderson, SC
Bay City, MI
Branson, MO
Bremerton/Silverdale, WA
Columbus, GA
Columbus, MS
Decatur, AL
Florence/Muscle Shoals, AL
Gadsden, AL
Gaffney, SC
Gettysburg, PA
Glasgow, KY
Homosassa Springs, FL
Hot Springs, AR
Lake City, FL
Lake Havasu City/Kingman, AZ
Midland, MI
Nacogdoches, TX
Opelousas/Eunice, LA
Oxford, MS
Paris, TX
Pittsfield, MA
Saginaw, MI
Spartanburg, SC
The Villages, FL
Waycross, GA
Winona, MN
We've also been getting comments and emails from G&E readers in other areas that are reporting pockets of LTE popping up in places that, as of now, haven't been announced yet.  If you notice LTE where you are, be sure to tell us about it! Comment here, or post some speed tests in our EVO forums.
Of course, Sprint has seemed to totally forget my local coverage area, as I have yet to see my town make an appearance on any official lists. And from the looks of it, lots of G&E readers are in the same boat as me. In any case, hopefully Sprint can get crackin' and meet its goal to be mostly complete with the rollout by the end of this year.
[
Sprint
]