Accessory review: FlixChip Muvifi with GoChips [Video]
As mobile phones and tablets are released with a growing amount of internal storage, many manufacturers are making the somewhat difficult decision to forego SD card slots. The argument, as it goes, is that someone with 32-64GB of storage already on their device doesn't really need an SD card; more parts equals higher costs. So ultimately, the decision is often made to leave out the SD card slot.
That decision, however, doesn't always bode well with consumers – especially those that follow sites like this one – but there is often little choice other than acceptance, as more and more of the most desirable phones (like the LG Nexus 4 or HTC One, for example) are released without that tiny but precious slot.
Enter FlixChip, the makers of the tiny portable WiFi media streaming device, the Muvifi. It actually took me a little while to figure out the usefulness of such a device, and originally considered it to be a neat novelty but not incredibly useful. However, the more I played around with it – and the more I thought about those of us who own devices that lack an SD card slot – the more I started to really like this little thing. Let me explain.
The Muvifi works by broadcasting a WiFi signal for up to 75 feet, making any files on it available to connected WiFi devices. It's 4.44 X 1.14 X 0.6 inches and weighs only 2.2 ounces. It broadcasts a secure WPA-2 encrypted b/g/n 2.4GHz network with a customizable network name and password, and its built-in lithium-ion battery can stream for up to four hours. There are Android and iOS streaming apps available, or you can also access files over WiFi on Mac and Windows PCs. Additionally, it supports streaming for up to four difference devices, and simple file sharing for up to eight.
Files are actually stored on little magnetic clips called GoChips that come in 2, 4, 8, 16, and 32GB varieties. You can also plug these GoChips into a regular-sized USB port and use them just like a USB thumb drive (I was skeptical at first, but they really do fit in a USB slot); then, simply copy and paste any kind of file onto them that you want. You will then be able to access those files on any device that's connected to the Muvifi over WiFi. Are you following me so far?
On my Windows 7 laptop, the Muvifi automatically shows up as a network-connected device. Without installing any extra software, I can simply navigate to My Computer > Network, and there it is. It really couldn't be any simpler.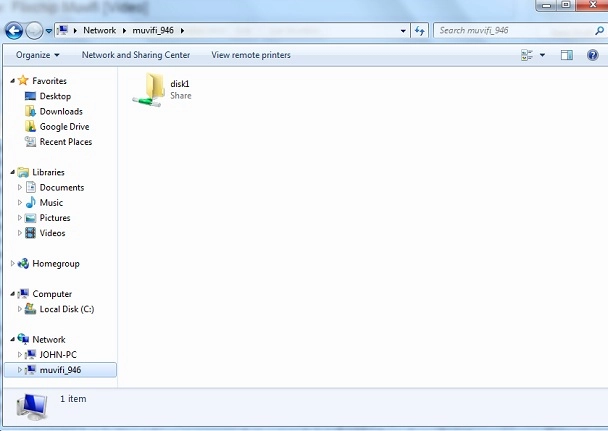 The Android app is equally easy to use. Simply download FlixChip from the Play Store, connect to the Muvifi over WiFi, and open the app. All your files will be there and accessible to you, and if you happen to have a movie stored on your GoChip, it will start playing automatically. Additionally, the Android app gives you access to additional settings that allow you to easily change the WiFi network name and password that the Muvifi broadcasts, change your admin password, connect it to another WiFi network for pass-through internet access, or adjust the power saving mode (you can set it to power off automatically after 5, 10, or 15 minutes if you choose).
While I don't personally have access to a Mac or iOS device, I'm sure the functionality is similar if not identical.
FlixChip is marketing the Muvifi like this: Before a road trip, for example, just load up a movie (or several) onto one of the GoChips, plug it into Muvifi, and turn the Muvifi on. Then, everyone in the car can connect their individual devices to the Muvifi and play any of the files that are stored there, at their own preferred pace. And while, admittedly, that is probably a great idea for families with several kids who have varying tastes, I am looking at this as an accessory that's extremely beneficial for those of you who just need more space and don't have an SD card slot.
Another (possibly unintended) feature of the Muvifi is that it can act as a simple yet powerful WiFi repeater, because you can connect it to another WiFi network – thereby giving any device that's connected to the Muvifi internet access. For example, you might strategically place a couple of these around your home or office, keeping them plugged in of course, thus extending the normal reach of your main WiFi router.
I should also note that the manufacturer has future plans with UltraViolet movies, which is a cloud-based locker that enables people to download and stream movies they buy, regardless of how they purchase them (DVD, BluRay, Vudu, Cinema Now, etc.). App updates are expected in the coming months that will allow users to directly download multiple UV movies to a GoChip.
There's only one bug I've discovered with the Android app: if you swap out a chip, it takes about three seconds for the Muvifi to scan and read it. Pressing the reload button while it is scanning the chip will cause it to say, "Chip not detected." FlixChip is aware of the issue and is working on a fix that will be available very soon.
For a more in-depth, hands-on look at the Muvifi and the GoChips, check out the video above. Overall, I'm impressed at the ingenuity behind this thing, and while it's certainly not for everyone, tinkerers and gadget enthusiasts will probably find something to like about this thing.
I don't think the Muvifi is being widely produced yet, but some limited offerings are available right now on Amazon. The main Muvifi unit is selling for $79.99, which is a bit steep in my opinion, but it's possible that price will start to go down once more of these are produced and they become more widely available.