HTC M7 might be available March 8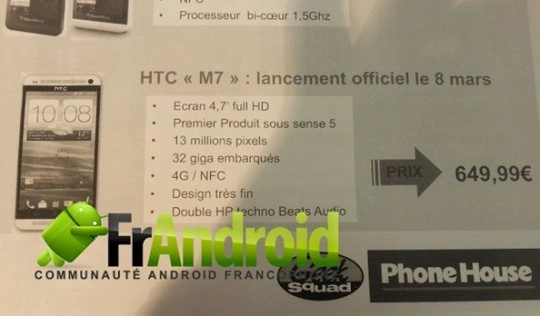 We've been hearing all kinds of rumors about the upcoming HTC M7, including some big changes on the camera and audio fronts, but the latest rumors are pointing towards a March 8 release date. This is, of course, much sooner than most people anticipated – many thought that HTC would reveal the M7 at Mobile World Congress later in the spring, while those of us who were hoping that this might be the next EVO didn't expect it until sometime in the summer.
The March 8 release date, which is only a month away, comes to us courtesy of a French retailer's leaked flyer, which also confirmed a 4.7-inch full HD display, 32GB of internal storage, NFC, a 13MP camera, and Sense 5. And given that HTC has scheduled a special press even on February 19, this release date doesn't seem outside the realm of possibility.
In any case, it looks like we'll know whether or not this is true in just a few short weeks. In the meantime, be sure to let us know your thoughts on the device, and whether it might be a contender for your money whenever you go phone shopping next.
[
Android Community
via
FrAndroid
]