HTC offers minimum $100 trade up credit for new HTC One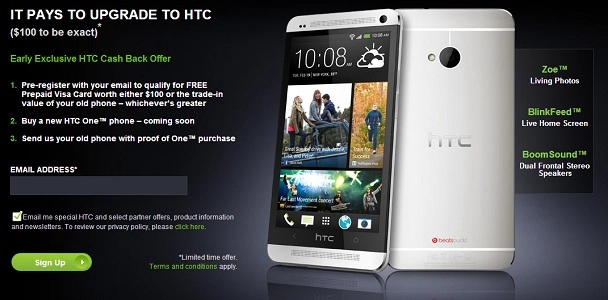 For a limited time only, HTC is offering early adopters of the new HTC One a $100 trade up credit for their old phones – regardless of what your old phone is or if it's worth much less. Here's how to take advantage of the deal:
Go to HTC's cash back website (linked below).
Submit your email address.
Once you buy your new HTC One phone, send in your old phone with proof of purchase of your new phone, and HTC will send you a Visa prepaid gift card worth $100 or the cost of your old phone – whichever is greater.
While you'll probably be able to get more money for your old HTC EVO on Craigslist or eBay, this is still a good deal if you've got an old phone laying around that's not worth very much, which you've been meaning to get rid of. In my case, I've got several old Samsung sliders and an old Samsung Blackjack – all of which are probably only worth a few bucks – that I could potentially get $100 for. And if HTC determines your phone to be worth more, then you'll get more.
Overall, this isn't a bad deal – and it's probably better than most carrier trade-in offers (I'm looking at you, Sprint).
[
HTC
]