TWRP, SmelkusMod, ClockworkMOD, 4EXT, Orange Backup, Titanium Backup, and Carbon compared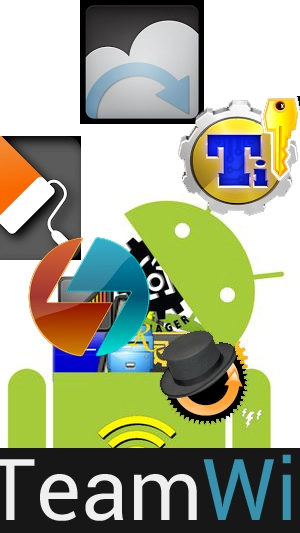 When dealing with any of the products in the title of this piece, a general question I get asked is, "which is better?" or "I use X, how is that different from Y?" I decided it might be time to go through the basics of what each does, and when it can be used.
I've divided these into two types: recovery and run-time. The quick and simple of these two is this: if your phone won't boot, run-time applications are useless to get it back into working order.
Recovery
First off we'll look at Team Win's Recovery Project, 4EXT, SmelkusMod/Amon Ra and ClockworkMOD Recovery. For purposes of this example, we'll assume they've all got the same basic functionality.
All of these products are custom recoveries. A recovery can be thought of in simplest terms as an application that exists before everything else does. If you manage to destroy your operating system (what you see when your phone boots up), you can usually still access recovery.
In recovery, you can make nandroid backups. These are basically a snapshot of your ROM, applications, and program data. A nandroid generally does not involve your pictures or music, as those just sit on the SD card and are untouched from ROM to ROM.
If you phone goes to hell and you've made a nandroid backup, even if you can't boot into the phone, you can restore the nandroid and get your phone back up to the point where it was before you unleashed Armageddon on it.
If you're rooted, you should always have a custom recovery on your phone, even if you use any of the other applications
Run time (Orange Backup)
Orange Backup creates nandroid backups, and it can sync them to the cloud. If your phone gets destroyed or stolen, you can rest assured that your Angry Birds save game sits on Dropbox or Google Drive. It creates these backups in either TWRP or ClockworkMOD format.
Orange backup can create nandroid backups while your phone is still running; however, Orange backup can not restore a backup that it creates (at least not as of this writing). So if your phone became bricked, you would still need a custom recovery to restore it, as with a bricked phone you can't boot to get to Orange Backup in the first place.
If your phone won't boot this is useless.
Run time (Titanium Backup)
Titanium Backup is like the Swiss Army Knife of backups – it does a lot of things, and it does them all pretty well, but you wouldn't want to fight a polar bear with it.
Titanium Backup generally is a backup tool that backs up individual programs and data. It can save it internally, sync it to the cloud, keep multiple instances/save points, etc. You can also restore individual applications from a nandroid backup.
Titanium also has the ability to restore backups made with ICS/JB desktop backup functionality. Those who are just stepping into the HTC root world may have noticed that HTCDev wants to destroy your data on your phone when you root the thing. This will enable you to restore that backup in cases where you were not ready to lose everything.
If your phone won't boot, this is also useless.
Run time (Carbon App Sync and Backup)
Carbon allows non-root users to backup apps and sync data between devices. It also facilitates the JB/ICS phone backups and restores.
While Carbon does a ton of stuff that I'm not going to get into here, if you're familiar with Titanium you can imagine that, over the air, with the ability to keep data synchronized between devices. Throw in a web server, remote control, and lasers and you have Carbon.
If your phone won't boot this is useless.
Thoughts
I personally use TWRP on my EVO 4G LTE, 4EXT on my EVO 3D, and SmelkusMod on my EVO 4G. I would use 4EXT everywhere, but the developer still hasn't got the thing re-written for the next gen phones. I also use Titanium Backup on all phones. In addition to that, I have Carbon on all of my devices right now, and I use Orange Backup on my EVO 4G LTE to make nightly nandroid backups so I don't have to remember to.
If you don't have multiple devices, you don't require Carbon, although you could use it to replace some of the functionality of Titanium Backup.
If you don't care about restoring individual apps to older states and you don't flash a lot of ROMs, you probably don't need Titanium Backup. You can simply make a nandroid weekly.
If you don't mind taking your phone down for 10-15 minutes to make a nandroid backup, and you can remember to do it regularly, you don't need Orange Backup making those backups for you.
I use all of these products. If Carbon made nandroids on a schedule and included a custom recovery, I think it might destroy everything on the market though. Or if Titanium Backup could sync data on a schedule between devices … you know where I'm going. Everything has advantages and disadvantages at the moment. I suggest a combo of one recovery and at least one of the run-time products based on your particular need.
Any questions or thoughts? Feel free to ask.