Review: Satechi ST-69BTS Audio Cube Bluetooth Speaker
I've had a lot of Bluetooth audio gear over the years, and despite having used some truly horrible products over the years, I still think that wireless Bluetooth audio has some use. It's great to be able to pick up a pair of headphones or a speaker and not have to worry about wires, no matter if you're at home or elsewhere. I have a pair of Bluetooth headphones that I always carry with me in my bag, and a recent addition to my at-home gadget setup is the Satechi ST-69BTS Bluetooth Audi Cube Speaker.
While you might say that Bluetooth speakers are a dime a dozen in the figurative sense, they're definitely not that cheap in a more literal sense. In fact, Bluetooth speakers seems to be getting more and more expensive, with some of the latest offerings I've seen in stores (like Logitech/Ultimate Ears' Mobile Boombox or Jawbone's Jambox) being well outside what I would personally pay for a Bluetooth speaker for my use.
I'm not saying that those offerings are necessarily bad, expensive, or pointless, I'm just saying that they're outside of what I want to pay for a tiny speaker to carry around the house. That's why Satechi's offerings intrigued me, as the most expensive of the bunch is still only $50, and that's the ST-69BTS Audio Cube.
Design
The name "Audio Cube" is well deserved. It's a cube, it really is. I'm half expecting it to try to assimilate me when I look at it, to be honest. The two 2W speakers are located on either side of the cube, pointing outwards. In other words, this is actually a stereo speaker, unlike a lot of other portable speakers these days. The outside has a rubberized texture that feels very nice in your hands, and the entire cube rests on four rubber feet.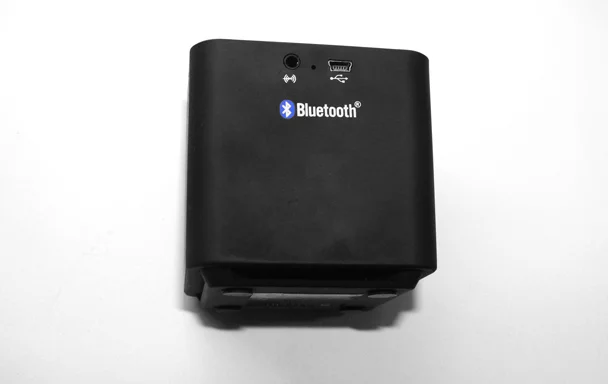 The bottom has a narrow opening going all the way around it to help with the bass (the bottom essentially acts as a subwoofer), and on the back you have auxiliary input via a 3.5mm jack, and a miniUSB port for charging. The top has the actual controls, with four buttons located on a button right with a middle button as the fifth. These buttons control power, volume, play/pause, and track skipping. There is also a light-up ring around the buttons, acting as a power indicator.
Quality-wise, the ST-69BTS is mostly good. It feels solid, looks well made, and the parts fit together nicely, which is unfortunately not a given with a lot of plastic products these days. The exceptions to the great quality feel are the printed labels and Bluetooth symbol on the back, as well as the middle button on top, all of which are slightly crooked. Not a big deal, and is likely limited to one production batch, but worth noting as the one exception to an otherwise high quality product.
Features
This feature set is as straight forward as it gets for a Bluetooth speaker. You pair it once, then it reconnects upon powering on. The controls on top will remote control your device if it's AVRCP compatible, which is fairly standard these days. It will run for up to 6 hours on a charge, but that's a number that's so highly dependent on volume that it's only semi-useful. I've certainly seen Bluetooth speakers with better battery life though, but then again, it's fairly standard-especially for something with this output (but more on that in a bit).
The biggest annoyance with this speaker for me as far as features go is the lack of a speaker phone mode. There's no mic, and no call button. Obviously this isn't designed for that purpose, but there's one other feature that requires the same hardware and is highly relevant: voice assistant support. I've previously written about how I find Siri very useful for controlling music when using my Bluetooth headphones, and the same goes for a Bluetooth speaker. While using the ST-69BTS, I constantly found myself having to run back to my iPad to do things I'm used to doing with Siri, like specifying an artist, track, playlist, or album to play, or just playing all songs on shuffle.
I can't really complain too much about the lack of this feature though, as this speaker isn't targeted specifically towards any Voice Assistant-capable devices. Had it been sold as a "for iOS" product, it would have been different. Still, it's something you need to be aware of, and I think that if you have a compatible device, having a Voice Assistant-capable speaker does as much to make the speaker wireless as the Bluetooth connection itself. As it is right now, my Bluetooth headphones are "more wireless" than this thing, to put it like that.
In use
Despite the lack of Siri interaction, I've been enjoying using this speaker quite a lot. It's not a revolutionary product like the product that introduced me to the Satechi brand, but it is a very solid product that's very nicely priced. The speaker can be very loud, with less distortion at max volume than many speakers I've heard. You likely won't use it at that setting too much though, and I find that it's capable of filling a room with sound well before the volume meter maxes out. I've been carrying the speaker with me all over the place, and it's been doing the job of giving me some portable sound very well.
As for sound quality, it's quite good for a speaker this size. As is often the case, lower frequencies is where it lacks the most depth, as you can't easily produce a lot of bass with a speaker this size. Some music I listen to sound extremely good on it, because they're not very bass heavy, while other music sounds hollow and cheap. I'm speaking in absolute terms here though, and as far as portable speakers go, I find the sound quality to be quite good. I'm especially impressed with the stereo separation, which has actually made me look up from what I've been doing at times because it's so unusual to hear good separation on a portable speaker like this.
Conclusion
The Satechi ST-69BTS Audio Cube is not without its flaws, but they're flaws that are easy to forgive considering what you get for the price. For a $50 unit, which is fairly cheap for something like this, it's a solid buy. Good sound quality, excellent stereo separation, and overall a very nice wireless speaker.
The ST-69BTS can be bought from Satechi's website for $50.